Uhuru: I will not tire of preaching love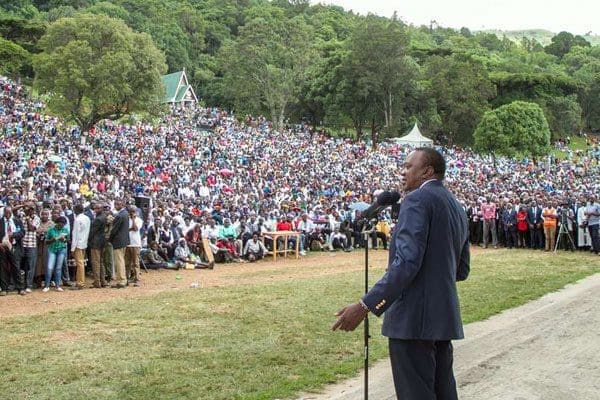 President Uhuru Kenyatta and his Deputy William Ruto on Saturday assured Kenyans that the repeat presidential election on October 26 will be held in a peaceful environment.
Speaking at the Village of Mary National Shrine in Subukia, Nakuru County, President Kenyatta also told Kenyans to put aside their worries ahead of the election, assuring that security measures will be put in place to stop those with criminal intentions.
"As the Head of State, I will do whatever is possible under my powers to ensure the repeat presidential election is peaceful, fair and transparent so that Kenyans get a second chance to elect the leader of their choice," he said during the national prayer day attended by Catholic faithful.
The theme was "Peace in the family, peace in our country and hope in our youth".
President Kenyatta, who spoke for only seven minutes, urged Kenyans to uphold peace irrespective of their political or religious affiliations.
The Jubilee Party leader called for national prayers for the benefit of the nation.
Additionally, DP Ruto also expressed confidence that harmony will prevail.
"Kenya will remain united during the election and after the election because Kenyans are peaceful people," he said.
President Kenyatta thanked Archbishop Zacchaeus Okoth of the Archdiocese of Kisumu for his homily.
In his message, Archbishop Okoth said that Kenya needs peace to propel its development agenda.
"The youth need peace and security so that they acquire quality education and become responsible citizens," Archbishop Okoth said.
He urged Nasa and Jubilee leaders to strive to resolve the electoral stalemate.
On infrastructure, President Kenyatta promised the congregants that the dilapidated road leading to the Shrine will be upgraded from next month for ease of access.
Source link-nation.co.ke