VIDEO: Song and dance after Robert Mugabe finally resigns

VIDEO: Song and dance after Robert Mugabe finally resigns
Zimbabweans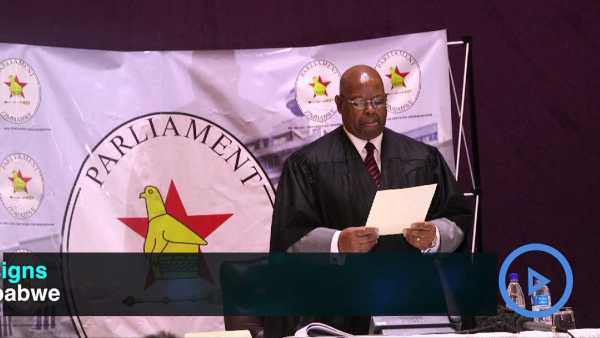 Tuesday broke into song and dance after President Robert Mugabe resigned, forestalling a motion of impeachment against him.
Car horns blared and cheering crowds raced through the streets of the Zimbabwean capital Harare Tuesday as news spread that President Mugabe, 93, had resigned.
"We are just so happy that things are finally going to change," Togo Ndhlalambi, 32, a hairdresser, told AFP.
"We woke up every morning waiting for this day. This country has been through tough times."
Speaker of the National Assembly Jacob Mudenda announced that the embattled leader had opted to resign, throwing the nation into celebrations.
"I Robert Gabriel Mugabe in terms of section 96 of the constitution of Zimbabwe hereby formally tender my resignation… with immediate effect," said speaker Mudenda, reading the letter.
IMPEACHMENT
Parliament had earlier on Tuesday began impeachment proceedings against President Mugabe as pressure mounted on the veteran ruler to relinquish power.
President Mugabe has been under house arrest since November 14 when the military seized control of government.
Street protests and an internal revolt in the ruling Zanu-PF party have left the 93-year-old ruler fighting for political survival with long-time allies switching allegiances to ousted Vice-President Emmerson Mnangagwa.
Speaker Mudenda told MPs on Tuesday that the motion to remove President Mugabe was "unprecedented in the history of Zimbabwe".
A ruling party legislator, Ms Monica Mutswanga, submitted the motion and was seconded by Mr James Maridadi of the opposition Movement for Democratic Change (MDC), which is led by Mr Morgan Tsvangirai.
JOINT SESSION
A joint session of the National Assembly and Senate was expected to convene later in the day to consider the motion.
At least half or 174 votes were required for the motion to proceed and Zanu-PF, which already enjoys a two-thirds majority, was unanimous in calling for the president's removal.
The opposition had pledged to support the motion, for which a committee of nine MPs would be set up to investigate the charges against President Mugabe before reporting back to Parliament.
For the president to be removed from office, at least two-thirds, or 232 votes, are required and that was expected to happen early next week.
The charges against President Mugabe included that "he is of advanced age and no longer has physical capacity to run the country".
Zanu-PF was also accusing its long-time leader and founder of the party of allowing his wife to "usurp constitutional power when she has no right to run government".
"She is insulting civil servants, the vice-president at public rallies and denigrating the army," the motion read.
As the MPs set the impeachment process in motion, thousands gathered outside Parliament in Harare, calling for the president to resign.
TSVANGIRAI
Former Prime Minister Tsvangirai was one of the opposition leaders who addressed the crowds.
Demonstrations were expected on Wednesday to pile pressure on the world's oldest president.
Mr Mnangagwa, fired over a week ago by President Mugabe but is favoured by the military to take over, on Tuesday told his former boss to resign immediately or face public humiliation.
Botswana President Ian Khama, in an unprecedented open letter to the beleaguered Zimbabwean leader, also echoed similar sentiments.
"The people of Zimbabwe have for a long time been subjected to untold suffering as a result of poor governance under your leadership," he wrote in the letter posted on the government's social media platforms.
"It is, therefore, my conviction that by vacating the presidency, this will usher in a new political dispensation that will pave the way for the much-needed socio-economic recovery in Zimbabwe."
President Mugabe also suffered further humiliation on Tuesday when only three ministers turned up for a Cabinet meeting.
Most of his loyalists were in hiding following the military crackdown and those who remained were part of a Zanu-PF meeting on Sunday that voted to fire him from the leadership of the party.
-nation.co.ke
VIDEO: Song and dance after Robert Mugabe finally resigns