Jubilee MP petitions government to create designated demo zones
Jubilee MP petitions government to create designated demo zones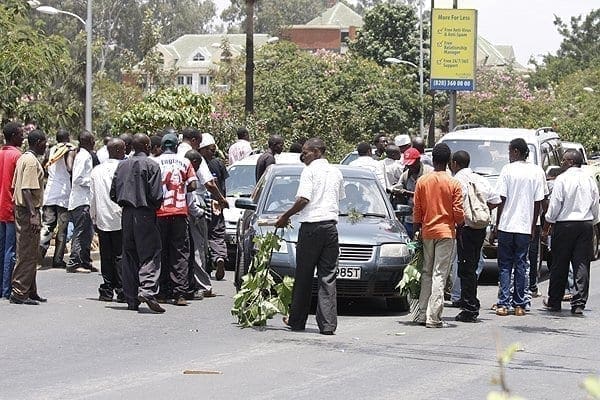 NAIROBI, Kenya Dec 4 – Ruiru Member of Parliament Simon Nganga wants the government to designate special zones where Kenyans can hold the peaceful demonstrations.
In his Private Members Motion tabled before the House, Nganga said the move will assist in the enjoyment of the Right to Assembly and Right to Expression as enshrined in the Constitution.
"Noting that demonstrating and picketing in the cities and major towns in the country has many occasions resulted in destruction, loss of lives, property and public disorder leading to the creation of a very unfavourable business environment. This House resolves that this government should designate specific areas and streets for picketing and demonstrations," he said.
He said the designating such areas will also curb lose of life as a result of clashes between police and protestors as well destruction of public property as has been witnessed during recent opposition demonstrations.
"Article 37 of the Constitution guarantees every person the right to peacefully and unarmed to assemble, to demonstrate, to picket and present petitions to public authorities; noting that there is need to guarantee the enjoyment of rights and fundamental freedoms by any individual should not prejudice the rights and fundamental freedoms of another," read the Motion in part.
The motion comes as the National Super Alliance threatened to sue the Inspector General of Police Joseph Boinnet and Acting Interior CS Fred Matiang'i over the killings and infringe on their Constitutional rights.
This is after the government outlawed demonstrations in Kisumu, Mombasa, and Nairobi CBDs.
Jubilee MP petitions government to create designated demo zones