5 people who could easily become Deputy President of Kenya in 2022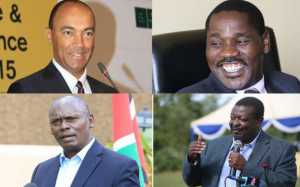 The presidential running-mate race in 2022 will be by far one of the most interesting, according to political pundits.
Many names stand out as capable of handling the job but some are more popular than others.​
Below are some of the candidates who have impressed and could easily be Vice President of Kenya in 2022:
1. Wycliffe Musalia Mudavadi
Musalia Mudavadi has been interested in the presidency for about a decade. He has however not managed to convince fellow top job aspirants to back him. As per the recently concluded presidential campaigns/elections, the Amani National Congress party leader was literally reduced to a cheerleader and an event organizer for the NASA coalition – a position he took up proudly. He excited crowds with the "Nasa hao" phrase.
In future (2022 particularly), HE Musalia could be Kalonzo Musyoka's running mate. This is pegged to whether the coalition will still be intact. Should the coalition disintegrate, Musalia might vie on an ANC ticket.
2. William Kabogo
Ambitious Kiambu County Ex-Governor is considered as someone who is fit to succeed President Kenyatta. This is owing to his firm and aggressive nature. The biggest challenge is that the narrative "why a Kikuyu all the time" won't let him garner a significant number of votes.
Knowing this too well, the Kikuyu nation will negotiate a Deputy President position for him or any other Kikuyu son. It can't be ruled out that William Kabogo could go for the presidency and not the Deputy President's position.
3. Peter Kenneth
PK, as he's popularly known, has not been consistent in his quest for presidency. In the March 2013 general election, he ran for the presidency but failed. He would go silent for some 4 years only to resurface in the year 2017 with the intention to succeed HE Evans Odhiambo Kidero who was then the Nairobi County Governor.
He joined Jubilee Party only to be defeated by Sonko during the party primaries. It's thought that Jubilee fraternity had not forgotten that in the 2013 polls, PK ran against Kenyatta hence "dividing" Kikuyu nation's vote. He had to be taught a political lesson for going against the political grain. He would go on to vie for Nairobi gubernatorial seat on an independent ticket. He still lost. Since there are no permanent friends or enemies in politics, he could still be William Ruto's running mate.
4. Mwangi Wa Iria 
Murang'a County boss could also be fronted by Mt. Kenya region for the running mate position. However, he has a lesser national appeal compared to William Kabogo.
His impeccable performance as Murang'a County governor would make him impressive and suitable to the presidential aspirants and Kenyans.
5. Peter Munya
Former Meru County Governor once hinted that he would vie for the presidency in 2022. According to his plans, he would do so after his second term as Meru Governor. Unfortunately, he lost the seat to former Senator, Kiraitu Murungi. He also blamed his woes on "number 2" citing reasons similar to PK's. If the dream is still alive, son of Meru could be best suited for a Deputy President's position.
This is owing to his lesser national appeal despite being the chair of the Council of Governors. The choice of running mate will be a delicate balance as historically the nation votes along ethnic lines.
When choosing their running mates, the presidential aspirants will be guided by the "tyranny of numbers" school of thought.