Uhuru inspects SGR tunnel, the second longest railway tunnel in Africa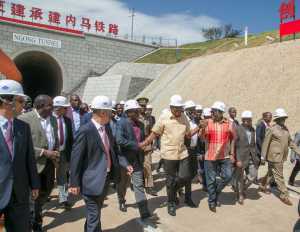 President Uhuru Kenyatta Saturday morning inspected the Standard Gauge Railway (SGR) tunnel at Em-Bulbul in Kajiado County.
The Em-Bulbul SGR tunnel covers 4.5km and is the first of the three sections of the 7.14 km SGR tunnel – the second longest railway tunnel in Africa. The other two sections of the tunnel cover 1 km and 1.64 km stretches respectively.
The railway tunnel is part of phase 2A of the SGR project that takes the modern railway line from Nairobi to Naivasha and onwards to Narok.
Later the President chaired an inter-ministerial quarterly meeting at the Em-Bulbul site which was attended by, among others, Transport and Infrastructure Cabinet Secretary James Macharia on the Kenya side while the Chinese delegation was led by China Communication Construction Company (CCCC) Vice President Chen Yun as well the Chinese Ambassador to Kenya, Li Xuhang.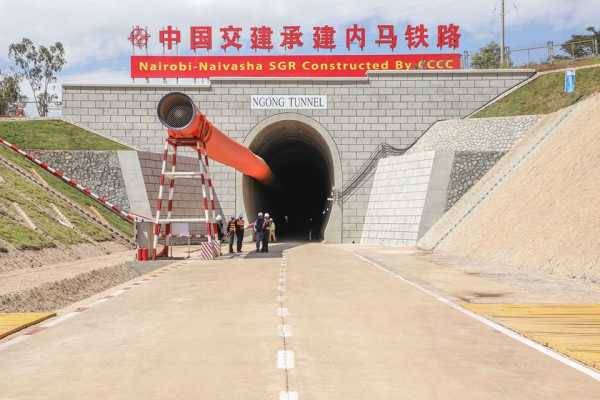 President Uhuru thanked the team for its commitment and asked them to ensure the railway line reaches Naivasha by June 2019.
The President also urged CCCC, working in collaboration with the Infrastructure ministry, to ensure all components of the SGR, which include the establishment of economic zones and industrial parks, are completed within the set timeline.
"All components of the phase 2A of SGR should be completed by June 2019 so that they can be launched together with the railway line on the same day," he said.
Briefing the President on the progress, CS Macharia said 25 percent of the tunnel is complete.
Addressing Em-Bulbul residents after the meeting, the President assured that the SGR project will open up the area and attract investors who will create employment for the locals.
Benefits of the SGR include provision of fast, efficient and reliable mode of transport that will decongest the port of Mombasa by ensuring goods are moved without delays. SGR is also expected to reduce the cost of transporting cargo upcountry.