Jubilee nullifies leadership changes in Murang'a assembly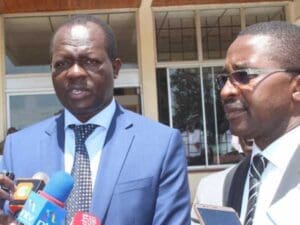 Jubilee Party secretary general Raphael Tuju has nullified the changes in the leadership of Murang'a county assembly.
He said the party does not acknowledge Simon Gikuru as the party's chairperson in the county.
Tuju, speaking in Murang'a town on Wednesday, added that any changes Gikuru has overseen in the county assembly are null and void.
The MCAs had elected Amos Murigi as their new leader of majority to replace Eric Kamande while  Joyce Wambui replaced Simon Wamwea.
During the courtesy call on Governor Mwangi wa Iria, Tuju said the party's disciplinary committee will punish MCAs engaged in fights at the assembly.
He also dismissed the party's caucus meeting that turned chaotic in Kiambu county in which Murang'a MCAs purportedly elected the new members.
"The Kiambu meeting is null and void as it was convened by a chairman who is not recognised in the party," Tuju said.
He said Gikuru had taken the party to court and lost after he was replaced as chairperson.
Tuju also noted that an official communication was made to the MCAs informing them that the chaotic meeting was illegal.
He said any party member who has issues with the party at the county level should follow the required procedures or go to court, instead of fighting.
"If the MCAs feel that there is somebody they do not want in their leadership, they should just go to court instead of fighting in such a primitive manner."
Tuju added that the current party leaders are serving on an interim basis and that Jubilee will hold a national executive council meeting next week to decide on when to conduct elections of party officials.
He also noted that the party will hold a meeting with Murang'a MCAs next week to induct them on the procedures of the party.
Tuju further pointed out that Murang'a MCAs, MPs, and the governor need to work together to deliver services to locals.
Eyes are now trained on whether the decision will end the fight among MCAs who have been torn into two factions.
The county legislators fought on Tuesday as the new leaders attempted to take over their new offices and met resistance from their rivals.
Three of them were arrested and arraigned, but did not take plea as the prosecution applied for more time to have them held in police custody.
A warrant of arrest has also been issued against four others who are yet to be found.
Governor Wa Iria lauded the party for intervening to bring sanity in the assembly saying the constant fights portray the party negatively.
He expressed confidence that the party meeting with the MCAs next week will bring to an end all their scuffles.
"As urging them to have tea and be peaceful until the meeting is held next week," Wa Iria said.