Most Kenyans want Amina retained at Foreign Ministry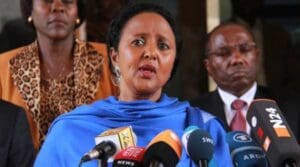 Majority of Kenyans are unhappy with President Uhuru Kenyatta's decision of not retaining Ambassador Amina Mohamed as the Foreign Affairs Cabinet Secretary.
Those who spoke to Capital Fm News say Kenyatta should have retained her because of track record, citing the high profile conferences held in the country since taking over office-among them TICAD VI and WTO.
Others cited Amina's role in the International Crimes Court charges that faced President Kenyatta and his Deputy William Ruto which were dropped for lack of evidence.
"She did a very big job in ensuring the ICC cases were concluded. She has also worked her part in bettering Kenya's relationship with other East African countries. She should definitely come back," Kevin Otieno, a Nairobi resident said.
The President has already announced that he is retaining six Cabinet Secretaries in his second term among them Fred Matiangi who will take over at Interior and act in the Education docket, Henry Rotich (Treasury) and Najib Balala (Tourism).
Others who have been retained are James Macharia (Transport), Joe Mucheru (ICT) and Charles Keter (Energy).
President Kenyatta is expected to name the rest of his new Cabinet in due course to fill the remaining 13 positions.
"Of all the people that should have been retained, Amina Mohamed was the most deserving. I hope the President will reconsider," Melvin Marende, a Nairobi resident said.
Many welcomed the decision to elevate Fred Matiangi to the Interior docket even though he will continue holding onto the education docket until his successor is named.
"I'm glad the President has retained Matiangi. The new education system, curbing cheating exam cases and releasing national examinations in good time are some of the reasons why I'm glad he is back," Vincent Otieno said.
Otieno added that even though he did not vote for the government, he is happy with Kenyatta's decision for retaining hard workers and leaving out those who do not have any tangible results.
"Eugene Wamalwa for instance did not work. I do not know if he is going to reward loyalty, but from what it looks like, he is selecting people from all regions in the country."
Asked on whether the firing of all women in the cabinet was of any significance, many said their works were not as visible when compared to those of Amina.
Among those who sacked Phyllis Kandie (Labour), Judi Wakhungu (Environment), Adan Mohamed (Industrialization), Cleopa Mailu (Health) and Hassan Wario (Sports and Culture).
The spotlight will now fall on the likes of Mwangi Kiunjuri (Devolution) who had to shelf his ambition to vie for a gubernatorial seat. It will also fall on Judi Wakhungu whose move to have the use of plastic carrier bags will benefit the country's environmental conservation efforts.
State House has said all Cabinet Secretaries will remain in office until advised to vacate