Ruto's 2022 bid causes a stir in Mt Kenya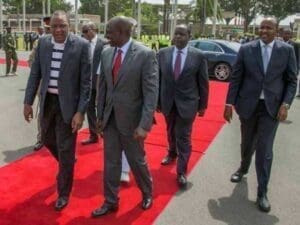 He was once said to be a shoo-in for President, but Deputy President William Ruto's 2022 succession plan now appears uncertain.
Though Ruto is a known survivor, major hurdles are being thrown in his way as regions and politicians hatch their own plans for power in five years.
And President Uhuru Kenyatta has not yet formed his second government.
Further, not everyone applauds the UhuRuto pact that they will rule for 20 years — 10 by Kenyatta and 10 by Ruto. The Opposition calls this a poisonous ethnic duopoly and that narrative resonates with many people embittered after the election.
More immediately, support from Mt Kenya, Jubilee's bedrock, seems shaky; opinion on the ground is shifting.
Machinations are said to be underway to clip Ruto's wings starting with the Cabinet, the apex of government where he wants to position his own allies for his State House run.
Most Mt Kenya politicians are noncommittal about supporting Ruto in 2022. Despite Jubilee's much-touted unity during the election, a number now say they will announce their position at the 'right time'.
"We are in talks with several people and immediately President Uhuru settles on his government, we will slowly create our own path. Remember, the list of people interested to succeed Uhuru is very long," a prominent leader who did not want to be named told the Star.
Last weekend's social media exchanges and a recent column indicate the region's support for Ruto is fluid.
Ruto himself tweeted last Sunday that everyone should avoid "useless political debates about positions, including 2022".
Nyeri town MP Ngunjiri Wambugu wrote in the Star on Wednesday that Ruto is clearly the front runner, however, "What we cannot do is go around looking for votes for him today, for 2022. We also cannot go around telling the DP he will get votes — from any region — unconditionally. That would be to lie to him."
A lot can happen in five years, people think for themselves, he said.
Gatundu South MP Moses Kuria has frequently pledged that Mt Kenya will support Ruto. On December 31 he said the Kikuyu will back the DP in 2022 and will not betray him. He urged the Kalenjin not to worry about claims that the region has a history of not backing another Kenyan for the top seat.
However, former nominated Senator Paul Njoroge told the Star, "Those saying Kikuyus will vote for Ruto in 2022 are sycophants who are doing it for extortion. As members of the Kikuyu community, we have not appointed anyone to speak on our behalf."
Cherang'any MP Joshua Kuttuny says Jubilee's problem in Central is lack of consultation.
"The power wars in Mt Kenya bring out the political situation where there are no consultations and proper framework of engagement," he told the Star. "If you leave this political situation unchecked, it raises suspicion among leaders from Central and Rift Valley."
It was not clear whether Kuttuny was referring to Uhuru's initial Cabinet appointments, which insiders say amounted to running roughshod over Ruto. He was opposed to some choices, they say.
While the DP is focussed on his 2022 strategy, Uhuru is focussed on his own legacy.
It is not just in Mt Kenya where Ruto faces possible shifting allegiances. Western too is assessing the landscape.
According to former Kakamega Senator Boni Khalwale, a NASA activist, the Luhya community will determine its direction once government is fully constituted.
"We have watched what is happening to people like [former Water CS] Eugene [Wamalwa, who was stoned and jeered]. The best thing for us is to wait and see," he said.
The Luhya community — and Western region generally — are essential in every matrix for victory in 2022.
Ruto's camp is determined to make inroads in Mt Kenya and opposition strongholds by tapping prominent politicians to counter three formidable coalitions in 2022 — NASA or its successors, Kanu and a Mount Kenya-led coalition.
All coalitions have segmented the country and are plotting to take Ruto's Rift Valley turf.
"We understand history and we know people who have been genuine to Kikuyus. We are not talking about the last five years but we are talking about a history since independence," Njoroge said. "People like Kuria should not lie to Ruto."
Mt Kenya opinion makers, businessmen and clergy are already exploring strategic partnerships for 2022.
"The bottom line is the President is Uhuru Muigai Kenyatta. Kenyans never elected Ruto. He was appointed by Uhuru and cannot dictate who joins the Cabinet," Njoroge said.
Another former Nairobi MP from Central Kenya, who asked not to be named, said, "We don't decide who to vote [for], people decide and a lot happens behind the scenes. We are still looking at dynamic changes in the landscape."
A former governor said, "Our community interests come first and they will dictate our vote in 2022."
But Ruto has strong backers, too, such as Kikuyu MP Kimani Ichungwa.
"The guardians of Jubilee's transformative agenda are President Uhuru and DP Ruto. It (their government) runs for 20 years and we will follow Ruto to unite the country."
He dismissed Wambugu's statement that Mt Kenya's support is not guaranteed, saying he does not understand Jubilee's agenda.
"It is too early to start panicking about 2022," says Laikipia West MP Patrick Mariru. "Ruto's star is shining more than ever before."
Skeptics about Ruto's ambitions are not confined to the political class. Outspoken civil society figure Ndung'u Wainaina said, "I once said the 2009 political contract for William Ruto will come to end. Recall what Moi told late Prof George Saitoti [there's no friendship in politics]. Wainaina is executive director of the International Center for Policy and Conflict.
Many politicians who lost in Jubilee primaries blamed Ruto's scheming. For them, it is revenge time and they are going flat out to influence opinion. They say Ruto's grip on Jubilee will slip as soon as Uhuru appoints his government.
Scheming to reduce the DP's influence comes from within and outside Jubilee. It has intensified since Uhuru's swearing-in and becomes more determined with each day's delay in naming the Cabinet.
Ruto is also challenged by Kanu's moves to position itself strongly in Mt Kenya and the Rift Valley and to increase its visibility in NASA zones.
Its leader, Baringo Senator Gideon Moi, has also set his sights on the presidency. He opted out of the Cabinet on Tuesday, leaving some slots to his allies.
The party will use its MoU with Uhuru — in which Kanu supported Kenyatta in 2017 — to strategically position its people in government, thereby weakening Ruto.
"Political analyst Martini Andati said, "In Kenya, you don't become President, you are made President: That's Ruto's handicap. It is Gideon's advantage over Ruto. He will sit and wait to be made one.
"Former Vice President Oginga Odinga made Jomo Kenyatta President. Raila made Mwai Kibaki President. Moi was made President by Kibaki and [Attorney General] Charles Njonjo. Kibaki made Uhuru President. If Ruto thinks he can make himself President, it will be very difficult."
That is the jinx the DP has to beat.