Uhuru meets Kenyan-born Australian Senator Gichuhi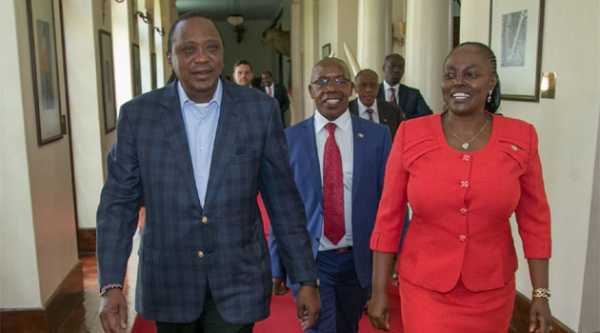 NAIROBI, Kenya, Jan 16 – President Uhuru Kenyatta Tuesday met Kenyan-born Australian Senator Lucy Gichuhi and urged her to use her position to boost bilateral ties between Kenya and Australia.
During the meeting with the Senator who paid him a courtesy call at State House, Nairobi, President Kenyatta said he was particularly keen to see a regular exchange programme that would facilitate sharing of ideas between Kenyan and Australian people.
"I am keen to see the young people learn from each other through these exchange programmes," President Kenyatta said.
The Head of State said the exchange of ideas should also apply at the professional and cultural levels among other areas of mutual benefit.
The President said Kenya could learn a lot from Australia which has been a democracy for 200 years.
He congratulated Senator Gichuhi on her election to Australia's federal Parliament, saying it was no mean achievement.
The Kenya-born Senator commended Kenya, saying last year's election process was a major milestone in terms of entrenching democracy.
She supported President Kenyatta's position on the exchange programme, noting that she got into politics through internship.
"I joined politics through an internship programme and I would want young Kenyans to learn through the exchange programmes," Senator Gichuhi said.
She said there was also room for Australians to learn from Kenya's way of life renowned for its hospitality, friendship and openness.
The Kenyan-born Australian Senator was accompanied by her husband William Gichuhi and daughter Agnes.
The meeting was also attended by Foreign Affairs Cabinet Secretary Amina Mohamed, Principal Secretary Monica Juma and Kenya's High Commissioner to Australia, Amb. Isaiya Kabira.