Muthama Swears to Hit Kalonzo With Bible If He Refuses to be Sworn-In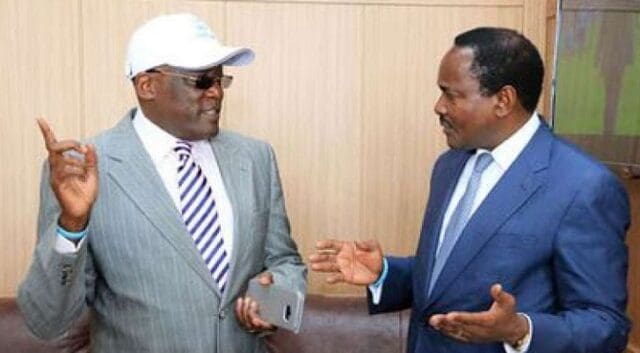 As Nasa supporters and Kenyans at large continue to anticipate the swearing-in of Kalonzo Musyoka, former Machakos Senator Johnson Muthama has made a sensational threat to the Wiper Leader should he fail to get sworn-in.
According to some unverified sources, Kalonzo's oath-day was set for February 28 at Uhuru Park. However, Kalonzo has quashed those reports describing them as "propaganda and Jubilee traps".
Speaking in Machakos on Tuesday, he said the announcement will be made later.
"I've seen the headline in the Star (newspaper) that I will be sworn on 28th… That's news to me, this time we are very careful about the dates we give so that we are clear on which way we are going. In good and due time, we will bring to the notice of our people on the date," said Kalonzo.
"What I know is that they cannot arrest Raila probably because he is not vying come 2022 but as for me, their (political rivals) wish is that I be arrested and prosecuted since to be sincere the oathing is against the constitution'" said Kalonzo speaking in Kamba.
Kalonzo was labelled a watermelon and a coward after he failed to take the oath with Raila Odinga on January 30. With uncertainty increasing if he can be trusted to take the oath, Johnson Muthama has said he will hit the Nasa co-principal with Bible should he refuse to be 'sworn in' as the 'people's deputy president'.
Muthama was speaking over the weekend in Kitui during a burial where he told mourners that Kalonzo was under house arrest on January 30 as Raila Odinga was being sworn in.
"I actually went to get him and was locked in as well, but we will ensure he is sworn in as the deputy president," he said.
He swore to make Kalonzo's swearing-in happen.
"I swear to God if Kalonzo does not get sworn in, I will hit him on the head with the Bible," Muthama said.
Muthama Swears to Hit Kalonzo With Bible If He Refuses to be Sworn-In