Musalia Mudavadi mocks President Uhuru, Raila Odinga truce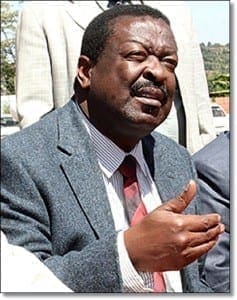 Amani National Congress (ANC) leader Musalia Mudavadi wants the deal between President Uhuru Kenyatta and Opposition leader Raila Odinga shelved, saying it is built on shaky ground and  was deliberately designed to be a two-man affair.
In an exclusive interview with the Nation, Mr Mudavadi said that Kenya should, instead, adopt broad-based talks that go beyond the political motives or ambitions of the two.
"It [he handshake] is akin to the biblical house  built on sand," the ANC leader said, at his Riverside Drive office. "We want talks that are anchored on a solid foundation because if they are not, we will commit a lot of resources to them but eventually throw the outcome away."
INCLUSIVITY
Ater their surprise handshake on March 9, President Kenyatta and Mr Odinga promised to start a programme to address the challenges facing Kenya's unification, including the perception of electoral injustice, lack of a national ethos and inclusivity, devolution, corruption, and insecurity.
The three National Super Alliance co-principals — Moses Wetang'ula (Ford-Kenya), Musalia Mudavadi (ANC), and Kalonzo Musyoka (Wiper Democratic Movement) — said they knew nothing about the handshake.
However, not much has come from the deal, which is driven by lawyer Paul Mwangi for Mr Odinga, and Mr Martin Kimani for President Kenyatta.
During the interview, also attended by ANC Secretary-General Barrack Muluka, Mr Mudavadi said the Uhuru-Odinga deal should be replaced with  broad-based dialogue guided by, among others, the church, civil society, and the politicians.
REFERENDUM
"If the talks are not structured and one individual falls sick, do they collapse?" he wondered. "What about if one of them says he does not want to go on  with the discussions; do the talks collapse? When we say we want all-inclusive national dialogue, that is what we mean," Mr Mudavadi asserted.
He said Kenya needs the kind of dialogue it had during the Bomas talks that birthed the 2005 referendum document after weeks of consensus-building, lobbying, and compromising.
Although the document produced was later mutilated in Kilifi and rejected at the ballot, the Bomas talks have been billed as the most inclusive and broad-based in recent Kenyan history.
Still, Mr Mudavadi said, they should be replicated, even though not necessarily on the same scale. "This will not be a walk in the park," he said. "And I suppose for the kind of talks we need, we need a minimum of two years because some of the things we are proposing might  require a referendum."
SECRET
While Mr Kenyatta and Mr Odinga are working on a programme to promote fair electoral processes, national ethos, inclusivity, devolution, good governance, and security, Nasa is rooting for electoral and police reforms, strengthening the Judiciary, and an equitable society.
Mr Mudavadi also laughed off speculation that the reason the talks between President Kenyatta and Mr Odinga were kept secret was that the ANC leader, Mr Musyoka and Mr Wetang'ula were also in parallel talks with the government.
"It is a big lie," he said, "and I think the media are being unfair to us. They have not taken time to interrogate the two gentlemen the way they are interrogating us."
On the state of Nasa, Mr Mudavadi stopped short of calling it dead, but remained optimistic that it can be steered back on course.
RECKLESS
"Nasa is rattled. It is shaken," he said. "If I pretended that there are no tremors in Nasa, I'd be lying."
He blamed the problems facing the coalition — and which have since escalated to talk of divorce and an end to the one-year old outfit — on "competition to please some principals".
"There was a reckless sense of bravado that seemed to be taking root within the ranks of Nasa. We have seen people taking sides on matters, not because they have given the issue adequate thought, but because they are obsessed with pleasing some principals or winning their favour," he said.
Mr Mudavadi steered clear of questions on Nasa's post-election strategies such as the National Resistance Movement and the boycott of certain products, only saying, "I have told you what Nasa stood for, and I think we need to go back to it."
     -nation.co.ke