Kenyan Man posts farewell message on Facebook before suicide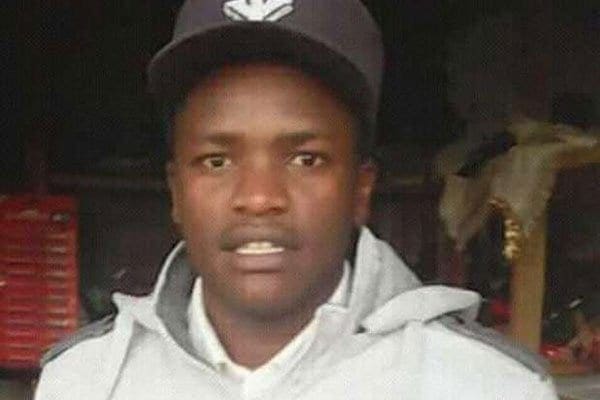 Friends and relatives of a 29-year-old man who wrote a heart-rending post on Facebook before ending his life last week describe him as cheerful and talkative.
According to those who knew him, Mr Gerald Mwangi alias Saning'o, made everyone laugh even during times of grief.
"I schooled with him at Ngano Secondary School in Nyandarua County, and I have known him as a jovial man all his life. He was very talkative and funny. He always left teachers in amusement," said Mr Macharia Kamau,a friend.
Last week on Wednesday, Mr Mwangi, a resident of Ngano village in Ol Jooro Orok, Nyandarua, wrote on his Facebook account at around 8.43pm to inform his friends and the world that he was about to end his life.
TALENTED
Mr Mwangi, a photographer and an actor, went ahead to invite all those who knew him for his burial should his body ever be found.
In the suicide note posted on Facebook moments before his death, Mr Mwangi stated: "I think my time in this world is over. I have been through enough but I am done. For those who know me well msikose kukam kunizika iwapo mwili wangu utapatikana. Niliwapenda nyote lakini Mungu akanipenda zaidi. (For those who know me well, don't fail to attend my burial if my body will ever be found. I love you all but God loved me more) R.I.P. GERALD MWANGI NGIMA."
According to a friend, Ms Monnique Mallens, Mr Mwangi stayed online for about five hours after posting the suicide note, maybe reading the responses from his "friends" before he switched off his phone.
"He posted and switched off his phone. We looked for him everywhere and since it was at night, we decided to search for him the following day, when we heard that his lifeless body had been found in Kinoo," she said. "I used to act with him, and he was a close friend. He was so talented," added Ms Mallens.
DEPRESSION
The incident has left many baffled and raised concern over the scourge of depression among Kenyans.
"I took his post as a joke because he was always a joker when we were in secondary school. In school, he could come to class and pretend that he had been sent by a teacher to give us class work," said Mr Kamau, his former schoolmate.
"When I saw his Facebook post, I went ahead and cautioned him against joking with death. I was shocked to learn that his body had been found the following day," added Mr Kamau.
Ms Mercy Muthoni, a neighbour of the deceased, told the Nation she thought it was a joke when she saw his post on Facebook.
DISPUTE
"He was an actor and a joker, and no one could take him serious when he announced that he was contemplating committing suicide," she said.
Mr Joseph Maina, another neighbour, said depression could be the reason Mr Mwangi decided to end his life.
"I knew him since he was a young boy. We have always played together like little kids. I last saw him at Ngano trading centre a few weeks before he committed suicide, and he looked so depressed. I noticed that something was wrong with him," said Mr Maina.
Nyandarua West OCPD Sylvester Githungo yesterday told the Nation that according to the family, the deceased could have committed suicide as a result of a domestic dispute.
GIRLFRIEND
"We are told that he was at his home village in Ngano for some days before he went back to Nairobi, where he committed suicide," said the police boss.
Mr Githungo further said the deceased had differences with his girlfriend.
However, a relative who sought anonymity, said the deceased's girlfriend was living in Dubai.
Alarm has been raised over the high number of suicide cases among men in the county.
By STEVE NJUGUNA
Kenyan Man posts farewell message on Facebook before suicide