President Uhuru and DP William Ruto hold a crisis meeting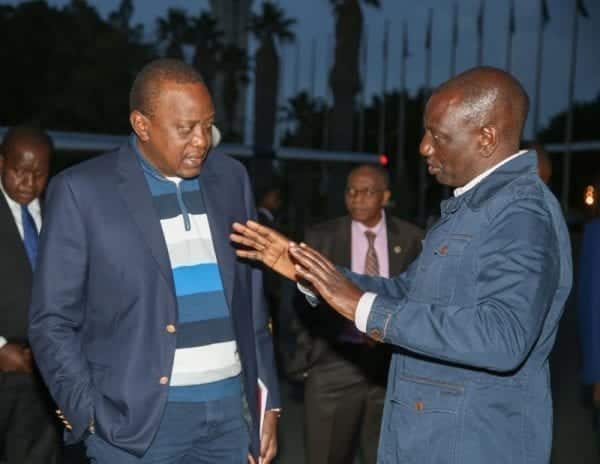 A five hour crisis meeting between President Uhuru Kenyatta and Deputy President William Ruto on Friday brought to the fore the simmering tensions within the Jubilee party and the desperate attempts by the two leaders to save what appears to be a party and, by extension, a government in crisis.
The meeting comes with the backdrop of accusation and counter-accusations among the party's rank and file over issues of corruption, contraband sugar and the 2022 presidential election that continues to be the elephant in the room within Jubilee campaigns.
These divisions have caught the attention of the president who is keen to quell divisions with his party that threaten to derail his legacy.
Sources in the know said Kenyatta is keen on avoiding a fate similar to that which befell the grand coalition government during Mwai Kibaki's second term as Presidnet.
The crisis meeting that started at around noon lasted up to around five in the evening  and saw Ruto delay already planned appointments such as one with the parents and pupils of Pumwani Primary School in Nairobi Count, as well as a series of the meet people tour of Starehe constituency.
The meeting started after Kenyatta had finished attending the Renault Virtual Reality Technology at the Total motorshow at Kenyatta International Convention Centre.
Early in the morning President Kenyatta had signed into I signed into law the Appropriation Bill 2018, authorizing the issue of Shs 1.4 trillion from the Consolidated Fund for delivery of public goods and services to Kenyans in the Financial Year 2018/19 which starts on 1st July 2018.
Prior to that met US Under-Secretary of Commerce Gov Gilbert Kaplan and we discussed an MOU to be signed between the governments of Kenya and the US that will facilitate implementation of infrastructure and the Big Four Agenda projects.
It is not clear what Kenyatta and Ruto discussed in the meeting that was only attended by the two individuals, but it is believed key among what featured in their five hour marathon meeting was healing the eseemingly widening rifts between perceived factions within Jubilee.
After the talks, is understood that the two leaders agreed to have a Jubilee parliamentary meeting on Tuesday to iron out the differences and align the big four agenda as a priority.
The crisis talks come in the midst of bitter exchanges within the ruling party on corruption, lifestyle audit and Ruto's 2022 State House bid.
And on Wednesday, an intelligence report by IHS Markit a Global investigative magazine based in London United Kingdom, indicated that there could be plans to have President Kenyatta's s allies martial a two-thirds parliamentary majority necessary to approve Ruto's impeachment, primarily by co-operating with the main opposition Orange Democratic Movement.