Pro-Ruto ODM lawmakers skip Raila's Mombasa meeting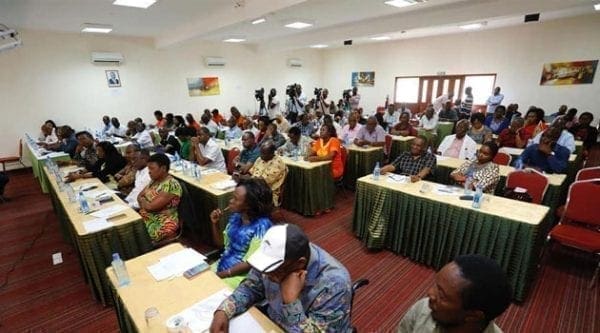 MOMBASA, Kenya, Jun 18 – At least four Coast legislators who were elected on ODM party ticket, failed to turn up for the party's two-day National Executive Committee and Parliamentary Group retreat at Flamingo Hotel Mombasa.
The retreat, which was officially opened by Opposition chief Raila Odinga, was aimed at bringing the members to speed on the implementation of the Building the Bridges Initiative among other internal party affairs.
Governor Hassan Joho of Mombasa and his Kilifi counterpart Amason Kingi were also present.
However, MPs Badi Twalib (Jomvu), Aisha Jumwa (Malindi), Suleiman Dori (Msambweni) and Benjamin Tayari of Kinango – who have shown a leaning towards DP Ruto – failed to show up. No tangible explanation was given.
Others who skipped the meeting were MPs Owen Baya, Getrude Mbeu, Paul Katana, John Mlolwa, Sen Mwaruma, Badi Twalib, Danson Mwishako and Ali Mbogo.
During the meeting, Odinga said he supports President Uhuru Kenyatta's war on graft.
Odinga said he supports the lifestyle audit of all state officers, adding that he is ready to take up the audit as an individual.
This was before they retreated to a closed-door meeting.
After the closed-door meeting, ODM Secretary General Edwin Sifuna said they fully support the current efforts to fight corruption in the country.
"Corruption has become a scourge that requires concerted efforts to eradicate. Although the war on graft is bound to elicit strong opposition from those who have benefitted from it, the ODM party will support any initiative that will help Kenya fight this vice and recover the stolen money and the grabbed property," said Sifuna.
He said in this respect, they fully support lifestyle audit of leaders and procurement personnel in all public institutions.
"It should not be business as usual for those who engage in economic crimes. Those opposed to lifestyle audit of public officers are enemies of the country. No one is special and no one is being targeted," said Sifuna.
ODM asked the government to also consider involving external agencies to help the local institutions of integrity to bolster their efforts in the fight against graft.
"By so doing, we shall rid the process of manipulation by cartels," he said.
He said the coast region has become a host to top government leaders to scramble over land and mineral resources.
"We put on notice all the corruption cartels; we shall not sit down and look as greedy people move around with high appetite for natural resources and land meant for the poor," he said.
Other issues that were discussed include the decision to impose tax on mobile money transfers.
"This is the only way Kenyans not privileged to own bank accounts can use to send and receive money," said Sifuna.
Another concern was the government's continued habit of disregarding court orders and refusing to abide by the law.
He said the law provides for the allocation of 0.3 per cent of the country's revenue to the Political Parties Fund and this was affirmed by the High Court.
"However this has not been honoured in the current printed estimates. We demand that the National Treasury should respect the law and abide by decisions of the court," he said.