Raila Odinga Has Betrayed Us, Say Coast MPs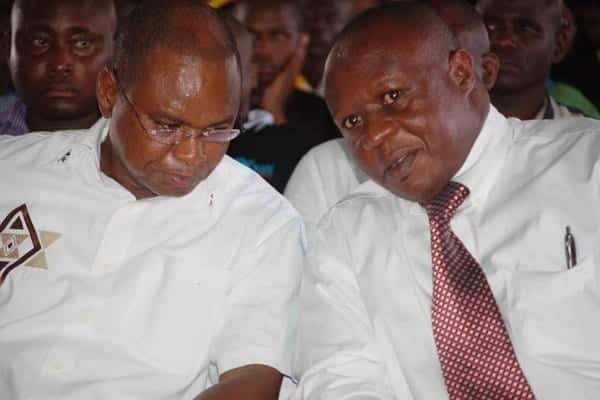 Coast MPs have accused Opposition leader Raila Odinga of using his newly-found rapport with President Uhuru Kenyatta to help his allies appointed in government .
They said they were saddened by the fact that no one from the Coast region was named in last week's appointments by the President.
Mr Owen Baya (Kilifi North), Ali Mbogo (Kisauni), Michael Kingi (Magarini), Ken Chonga (Kilifi South) and Teddy Mwambire (Ganze) said the region would charts its own political future because it was not gaining from the March 9 peace deal between the President and Mr Odinga.
HANDSHAKE DEAL
Mr Baya, a staunch ally of the Orange Democratic Movement (ODM) leader, accused the opposition chief of pushing for the appointment of his allies from Nyanza region, ignoring the massive support he got from the Coast region in the August 8, 2017 election.
"The people recently appointed by the President are very close to Mr Odinga meaning he is using the handshake deal to have his people appointed to government. That tells us that Coast is not in ODM and the National Super Alliance's plans in general, especially in addressing the marginalisation of our people," said Mr Baya.
EQUAL PARTNERS
Mr Baya, a close ally of Kilifi Governor Amason Kingi, said Mr Odinga had refused to champion the well-being of the Coast people.
"The lessons we have learnt is that we need to bargain for ourselves since no one else from outside the region can fight for us.
"It is time we leaders started bargaining for our piece of the national cake in the coming government and not through other people. We will form our own party and join other like-minded people on equal terms to be able to form a government and become equal partners," he said.
WAKE-UP CALL
The MPs were reacting to last week's appointments of new Principal Secretaries, ambassadors and heads of parastatal boards.
The appointments saw Mr Odinga's allies appointed to various positions including former Cabinet minister Ochillo Ayacko, who was nominated for an ambassador's post, although he turned it down.
Mr Mwambire said the appointments gave a clear indication that Coast region did not feature in government plans.
"The failure by the region to bag any appointment is a wake-up call for us leaders that we should not blindly support people whose mission we don't understand, he said and criticised his colleagues, including Coast Parliamentary Group chairman Suleiman Dori, who have already declared their support for Deputy President William Ruto for the presidency in 2022.
-nation.co.ke