Raila: Uhuru told me to leave Kalonzo Musyoka during handshake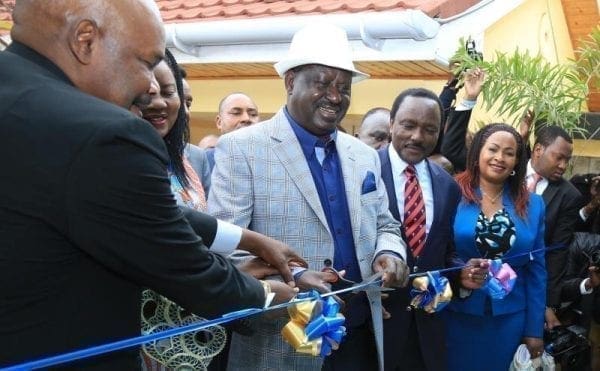 Opposition leader Raila Odinga has finally publicly explained why he left his co-principal Kalonzo Musyoka in his handshake meeting with President Uhuru Kenyatta in March.
Speaking in Kalonzo's Kitui stronghold, Raila told locals and guests at law scholar Prof Makau Mutua's rural home that he also insisted on keeping out Deputy President William Ruto from the talks, only referring to him as "those people who want to talk about 2022 politics."
Kalonzo was in attendance at the event, which involved opening of Kitui Villa, a banquet hotel owned by Mutua and his wife Athena.
Also present was Kitui Governor Charity Ngilu, his Makueni counterpart Kivutha Kibwana, Mama Ida Odinga and area political leadership.
"I said I didn't want to talk to those people who want to talk about 2022. He (Uhuru) said he would not come with Ruto, but also asked that I don't come with Kalonzo. We agreed that the initial talks were to be talks about talks," he said.
He said Kenya would have been different had he not agreed to the talks.
Raila reminded the guests that he braved high treason and "death by strangulation" to get himself sworn as the peoples' president.
He said President Kenyatta had agreed to his arrest but backed off on further consideration of the full implications.
"Our people had already agreed to gather all presidential portraits and burn them in a single heap. We were also going to start collecting taxes from our strongholds… I thought about it keenly and figured that we could easily head the Iraq way," he said.
Raila said the Canaan he had promised Kenyans lay in fulfillment of the original Kenyan dream enshrined in the national anthem. He said this was what the handshake would achieve, if accorded support.
At the event, Kalonzo largely kept off the handshake politics, only gasping "oh what a day" at the constellation of political bigwigs gathered at the tiny Ngiini village.
He, however, criticised the "handshake" for failing to drop the hate speech case against the Pangani Six politicians.
"Mheshimiwa Johnstone Muthama would have been here if it were not for that case whose mention was today (Tuesday). We thought the most natural thing after the handshake would be to stop that case," he said.
Taking cue from Mrs Ngilu, who had said the region would solidly rally behind him to take over the country in 2022, Kalonzo firmly but cryptically exclaimed: "We will not take it easy anymore, not any more…"
At the event, Raila, Kalonzo, Ida and Ngilu heaped praises on Mutua as a man of impeccable quality and strength.
Raila said Makau's independent mind, fearless writing and speech had won him friends and foes. "When I was coming here, I told President Kenyatta that I was coming to open Makau's hotel and he told me to tell him to stop being too critical," Raila said.
Mutua praised
Ngilu said Makau was one of the brains behind the 2002 Rainbow Coalition after he rallied her, Mwai Kibaki, Raila, James Orengo and others at a meeting in Serena.
Ida said the quality of the Makau soul was unmatched. "I do not know how many people here know who Makau Mutua is, but I want to tell you that you have a jewel in your midst," she said.
Kalonzo confessed that it was Mutua who reconciled him and Raila when they were growing too suspicious of each other in the run-up to the elections.
Kitui Villa is in Mutua's rural home in Ngiini village, a kilometre from Kitui township.
And addressing a gathering at Kitui bus park later accompanied by Kalonzo, Raila, who appeared keen to cool tempers in his vote base, noted that should the opposition have continued with its hardline stance, the country would have plunged into war, thus occasioning more loss of lives and destruction to investments.
"The handshake has brought peace and stability in the country. Through the handshake, we have seen the government fully committed to the war on corruption," Raila said.