New dawn at the Coast: Balala, Joho and Kingi in political unity pledge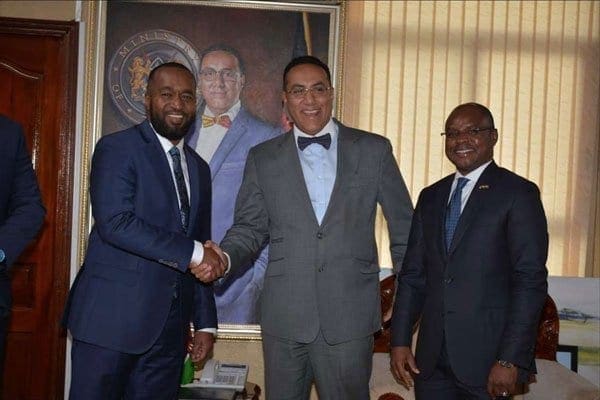 Tourism Cabinet Secretary Najib Balala hosted his former political nemeses, Mombasa Governor Hassan Joho and Kilifi's Amason Kingi, at his NSSF Building office in Nairobi in what could herald a new dawn for the Coast region's fortunes politically and economically.
Mr Kingi and Mr Joho are also said to have separately met ODM leader Raila Odinga in Nairobi and agreed to promote the Building Bridges Initiative to unite the country. Mr Joho also rescheduled his planned meeting with ward representatives set for Friday in Mombasa to next week on Wednesday.
INFLUENCE
Mr Balala, Mr Joho and Mr Kingi are regarded as the Coast's top politicians with huge influence but they have not close due to pre-March 9 rivalry between Jubilee and ODM and their fight for the control of the region's political.
Long-serving CS Balala is the only from the coast and holds a key docket as the region's economic mainstay is tourism. The former Mvita MP is a Jubilee party honcho and top campaigner at the Coast. He parted ways with Mr Joho and Mr Kingi following the collapse of ODM Pentagon before 2013 polls.
CRITICS
The CS, who recently rubbed Kenyans the wrong way following his response on calls for him to resign over the death of rhinos that were moved from Nakuru to Tsavo National Park, formed his own party after leaving ODM and backed Jubilee's election.
Mr Joho who is ODM deputy Party Leader and Mr Kingi, however, stuck with the Orange Party, propagating its ideals and becoming the government's harshest critics.
As a result, Mr Joho and Mr Kingi never saw eye-to-eye with Mr Balala nor attended meetings together including crucial ones involving tourism at the coast.
It was only until July 31 that Mr Joho and Balala buried their political hatchet after a meeting with President Kenyatta at State House, Mombasa before the CS paid a courtesy call on the governor, for the first time since inception of devolution for camaraderie.
TENSIONS
"We have now agreed to form a tripartite partnership between the ministry and the two county governments (Kilifi and Mombasa), with a priority focus on tourism which is the mainstay of the economies of the two counties," the CS said.
Wednesday's move by Mr Balala, who was flanked by his two principal secretaries Margaret Mwakima (Wildlife) and Joe Okudo (Tourism), to host the two governors is expected to ease political tensions between them.
Mr Balala said Mr Joho and Mr Kingi play a vital role in the tourism sector, since they represent two counties that are the bedrock of beach tourism.
PARTNERSHIP
Mr Balala said they agreed to form a tripartite partnership between the Ministry and the two county governments. They plan to develop joint digital marketing strategies to promote the coastal areas and their attendant tourist attractions.
The three leaders emphasised the need to improve infrastructure at the Coast to enhance access to tourist sites and also open up more areas to development. Specifically, they singled out the Kilifi-Lunga Lunga road that will ease movement of both people and goods.
Mr Balala said the national government will construct a mono rail from Miritini to downtown Mombasa to connect the Standard Gauge Railway (SGR) to the CBD.
-nation.co.ke