Kenyan immigrant Noreen Okwara joins UMass Board of Trustees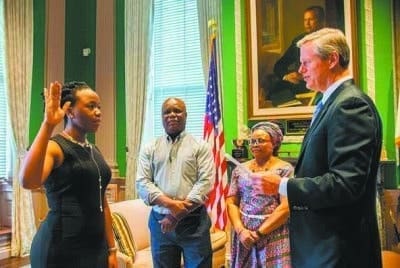 LOWELL — A year after graduating from UMass Medical School, Kenyan immigrant and former Lowell resident Dr. Noreen "Chioma" Okwara has been selected as a member of the UMass Board of Trustees.
Currently an internal medicine specialist at Brigham and Women's Hospital in Boston, Okwara was sworn in to the 19-member board Monday, according to a press release from the governor's office.
"Dr. Okwara is a hardworking and dedicated individual who will bring experience and passion to the University of Massachusetts," Gov. Charlie Baker stated in the release. "I am proud to appoint her to the Board of Trustees and am confident that she will serve with distinction."
While living in Mombasa, Kenya as a teenager, Okwara's 9-year-old brother died from injuries suffered in a car accident due to a lack of medical care.
Okwara has said this tragedy led to her life's mission to become a doctor.
"In medicine, I found a reason to keep going," Okwara said in a story published by The Sun in March 2017. "It was this hope that there was something I could do about it, that I could keep someone from going through what I went through."
In 2017, Okwara graduated from UMass Medical School in Worcester, nearly 10 years after immigrating to Lowell at age 17.
As a medical student and undergraduate, Okwara received the Charles D.
Baker II Scholarship, awarded to students "who approached each day and each challenge with persistence, optimism, and grace," Monday's release stated.
After completing her undergraduate degree in biology with honors at UMass Boston in 2012, Okwara conducted research on HIV immunoregulation at the National Institutes of Health in Bethesda, Maryland.
"Dr. Okwara's commitment and drive she demonstrated as both an undergraduate and a medical student will well serve the Board of Trustees," Lt. Gov. Karyn Polito stated in Monday's release. "Her determination, grace and courage is inspiring and we are pleased she will continue to be a part of the UMass community."
By Aaron Curtis