Ruto: 'The son of a pauper' who is too generous with money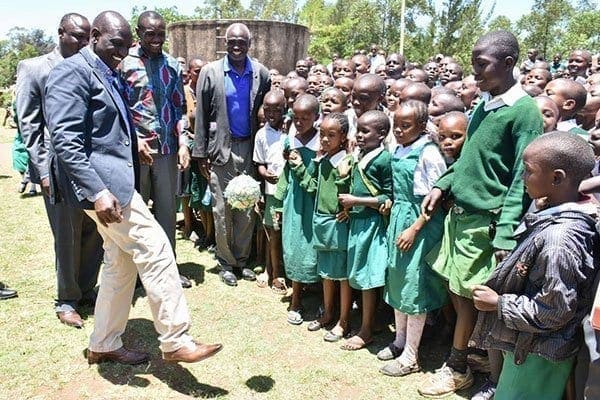 Watching Deputy President William Ruto splashing Sh10 million in cash to buy hundreds of goats during a fundraising auction in Kajiado last Monday evoked memories of the famous Moi-era Kimalel goat auction.
In those days, the high and the mighty would fork out hundreds of thousands of shillings to buy goats in good time for the December festive season.
The annual Kimalel Goat Auction ritual may no longer be as high-profile after former President Daniel Moi's exit coupled with the death of its legendary comic Master of Ceremony Ezekiel Barng'etuny, but its spirit lives on, if Mr Ruto's actions in Kajiado were anything to go by — spending Sh10 million to buy 1,400 goats that he said he would split with President Uhuru Kenyatta.
And it is not only at goat auctions that the Mr Ruto's generous spirit manifests itself.
FUNDRAISING SPREE
But a combination of outrage over increased cost of fuel a day earlier and the airing of the event live helped to once again stir debate on Mr Ruto's fundraising spree across the country at a time when most Kenyans were being forced to tighten their belts.
One contribution that raised serious eyebrows was Sh15 million donated to Murang'a High School on April 6 for the construction of a multi-purpose hall.
On June 9, he graced a fundraiser at Mary Immaculate Primary School in Nanyuki and donated Sh3 million and barely four weeks later he attended another fundraiser at Kairuri Catholic parish in Embu County where he gave the clergy Sh5 million.
No less than opposition leader Raila Odinga has questioned the source of the millions Mr Ruto dishes out in harambees.
Amani National Congress leader Musalia Mudavadi is also on record criticising Mr Ruto's spending spree, and in particular, last Monday's Sh10 million during the Kajiado goat auction.
"How does one walk around with Sh10 million. Just tell me how possible this is. Isn't this a sign of disrespect to Kenyans who are already struggling with fuel levies," Mr Mudavadi said.
GENEROUS SPIRIT
But for Mr Ruto, who styles himself as mtoto wa masikini (poor man's child), who walked his way up the political ladder from a chicken seller in Uasin Gishu to deputy president, his contributions should be seen in the context of his generous spirit and not so much about the source of his wealth.
"There are people who sometimes shock us by asking why we go to churches and why we donate towards church projects. But if you investigate these people they spend their money on witchcraft," Mr Ruto told a church gathering in Kayole, Nairobi, in July.
And he added more recently: "Those running 'injili ya shetani' that unless your father was a minister, a vice president or a president, however hard you work you must remain poor and if not a pauper you must be corrupt and have stolen, they should know that those without god fathers have God the father. Shindwe."
It was a veiled attack on Mr Odinga and President Uhuru Kenyatta, sons of pioneer politicians who inherited considerable wealth.
HARAMBEE
Never mind the fact that in some instances, Mr Ruto informs the beneficiaries of his harambee millions that part of it is a contribution from his boss, the president.
He will also not spare clerics, some of who have previously banned him from conducting harambees.
"Those barring us from conducting church harambees should know that we are Christians first, politicians second," he once said.
But despite his lines of defence, the deputy president's "Mr Moneybags" image has sometimes lent itself to ridicule and criticism.
So much so that some social media users recently asked President Kenyatta to consider borrowing from Mr Ruto instead of the Chinese and Americans.
-nation.co.ke