BEING TRACKED: Movements of Jowie in the murder of Monica Kimani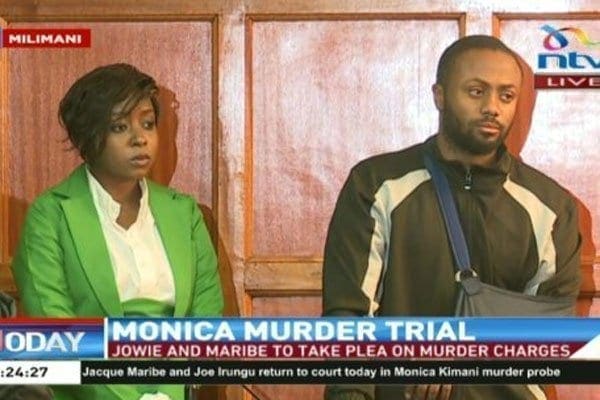 A few minutes after 4pm on September 19, Joseph Kuria Irungu left Lang'ata for the leafy Kilimani suburb of Nairobi.
While around the Ngei Estate neighbourhood of Lang'ata, he received a call that lasted 52 seconds. About 12 minutes later, Mr Irungu made a 14-second call while passing near the Uchumi Ngong Hyper on Ngong Road.
Eight minutes later, Mr Irungu was on Dennis Pritt Road, where he once again made a call, this time lasting 29 seconds.
BEING TRACKED
The movements of the key suspect in the murder of 29-year-old Monica Kimani in Nairobi four weeks ago are being tracked by the use of his mobile phone, and form part of call records that investigators are using to retrace his steps on the night Ms Kimani was killed.
Mr Irungu was yesterday charged alongside 30-year-old journalist Jacqueline Wanjiru Maribe, popularly known as Jacque, for the murder of Ms Kimani. They denied the charges.
The first accused in the case, Mr Irungu, made and received 108 calls and text messages between 7.26am on September 19 and 10.01pm on September 20.
MEDICAL EXAMINERS
Ms Kimani was murdered on the same night after being tied up. A post-mortem report, which is part of the bundle of documents filed in court, explained that cuts to her neck severed a carotidal artery and her right jugular vein. She was in good health, as her nutrition and physique raised no red flags from medical examiners.
The pathologist has asked to run more tests before releasing a comprehensive report.
The call data only gave Mr Irungu's general location, and in no way placed him in Ms Kimani's house.
PHYSICAL TAG
He was on Dennis Pritt Road between 4.30pm and 10.35pm. Ms Kimani's Lamuria Gardens flat, where she was killed in the bathtub, is on the same road.
Between 9.03pm and 9.21pm he moved around, though not far. A 19-second call he received in the neighbouring Kileleshwa suburb at 9.21 was the last action on Mr Irungu's phone before he returned to the Dennis Pritt area.
At 10.35pm, Mr Irungu received a three-minute call, one of the longest of the day, before he left for Lang'ata.
By 10.52, Mr Irungu was passing the Department of Defence headquarters in Hurlingham as he made another call that lasted 40 seconds. The last physical tag on his call records was at Nairobi Housing Corporation project in Madaraka, where his outgoing dial went unanswered. This was at three minutes past midnight.
HIGH-PROFILE CASE
He would make over 70 calls between then and 10.01pm on the night of September 20, the day after Ms Kimani's murder.
On Monday, the High Court was told that several witnesses set to testify in the case against Ms Maribe and Mr Irungu will be placed under a protection programme because of the huge risk the high-profile case places on their security.
For that reason, the prosecution noted, detectives will be opposing the release of the duo on bail or bond until all the witnesses give their evidence in court.
WITNESS PROTECTION
Appearing before Justice Jessie Lesiit yesterday, Assistant Director of Public Prosecutions Catherine Mwaniki said they were yet to complete the process of putting the witnesses under protection.
The prosecutor requested to be given another date when they can give their reasons for opposing the suspects' release on bail. Part of their application read that "there is a high likelihood" that the accused persons "will interfere and intimidate the key prosecution witnesses if released on bail or bond".
In an affidavit filed in court, the investigating officer said detectives have so far placed Mr Irungu at the scene of crime on September 19, but they are yet to arrest a suspect who was with him in the vehicle after he allegedly committed the crime. The vehicle that was used after the crime, the statement said, was Ms Maribe's.
CRIME SCENE
Further, the officer said, investigations into the killing will go beyond Kenyan borders. Ms Kimani had just arrived from South Sudan the day she was killed.
Among the witnesses set to testify is a person who is alleged to have seen Mr Irungu burn some clothes on the night Ms Kimani was murdered. The clothes were allegedly burnt at Ms Maribe's house in Lang'ata and the witness, who was in their company, positively identified the clothes.
The prosecution also alleges that the house in Lang'ata remains a crime scene and the accused persons might interfere with it if released on bond.
GETTING PARALYSED
The detective added that they are also trying to establish whether any money was taken from Ms Kimani's house, given that she was to travel out of the country the following day. The prosecution wants to know the persons involved, the movement of the money, and who is currently holding it.
Ms Mwaniki, for the prosecution, also confirmed that the prison had complied with a court order directing them to take Mr Irungu for medical attention. Last week, his lawyer Mugambi Laichena said his left arm was getting paralysed because he was yet to get medical attention.
FLIGHT RISK
The prosecution also alleged that Mr Irungu had been photographed carrying a "big gun", portraying the character of person capable of inflicting fear on potential witnesses.
Mr Irungu, through his lawyer Sam Nyaberi, argued that he is not a flight risk or likely to interfere with investigations in any way. He said he is willing to abide by any conditions placed on him by the court, including depositing his passport in court.
A lawyer representing Ms Kimani's family said he will also be opposing bail, but he was yet to file an affidavit.
MORAL SUPPORT
Yesterday, Mr Irungu's mother and a brother were in court to give him moral support, while Ms Maribe had her parents and friends — including Nairobi Senator Johnson Sakaja and State House official Denis Itumbi — comforting her.
Justice Lesiit directed the matter to be mentioned tomorrow before another judge for hearing of the bail application.
-nation.co.ke