Jacque Maribe, Irungu to remain in custody till next week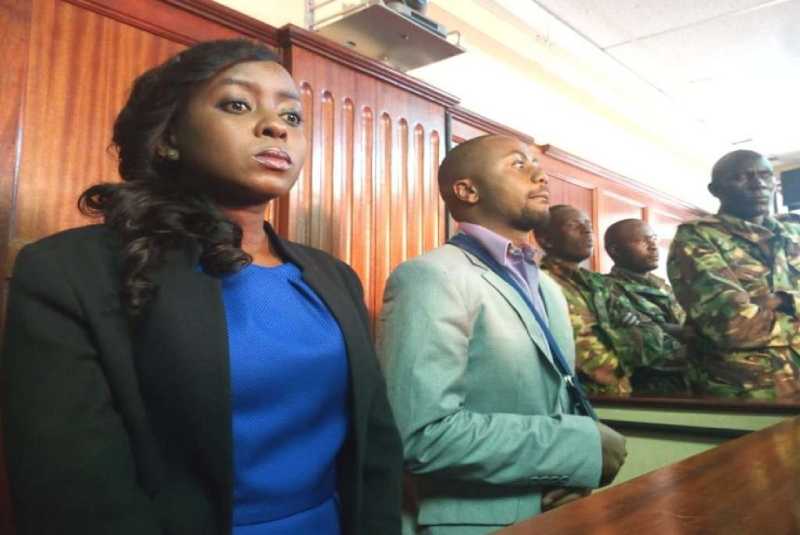 TV star Jacque Maribe and her fiance Joseph 'Jowie' Irungu will remain in police custody till Tuesday, October 30, when ruling on their bail application will be made, Justice James Wakiaga has ruled.
The public prosecutor Catherine Mwaniki also made amendments leading to inclusion of other suspects in the murder case for business woman Monica Kimani.
The court directed the accused to take a fresh plea, to which Maribe and Irungu again pleaded not guilty.
Monica murder case Maribe, Irungu to take fresh plea
Prosecutor Mwaniki opposed the release of the duo arguing that key witnesses in the case are not yet protected. Mwaniki argued that Irungu had confirmed being a trained security agent known to influential politicians, hence his release can intimidate the witnesses.
The defence lawyer Katwa Kigen representing Maribe argued on the other hand that the court ought to treat individuals equally, and that denying Maribe bail because of her influence would be tantamount to discrimination and infringement on her rights.
New interested party
The prosecutions also objected to the affidavit sworn by Josiah Murigi of non-governmental organization known as Empowering Africa Through Media, arguing that the entity is a stranger in the case. Prosecution said that the NGO has no documents to show its existence and did not file application to warrant its participation.
Justice Wakiaga ruled in the favour of the prosecution, quashing the affidavit. He said: "I will make a small ruling knocking you out for now, but if you want to come back then advise him or (client) accordingly."
Through their lawyer, the organization argued that their mandate is to protect the rights of media personalities. And, that their interest was triggered by the plight of TV journalist Jacque Maribe.
Jacque Maribe and her fiancé Joseph Irungu were remanded till October 24, today when Justice James Wakiaga ruled that their bail application would be heard.
Court allowed Joseph Irungu's lawyer Mugambi Laichena to file a supplementary affidavit in response to prosecution's argument that the accused should not be released on bail.
Justice Wakiaga directed that Joseph Irungu to be taken to Kenyatta National Hospital for surgery under the guide by the clinic at Industrial Area GK Prison. A directive that the prosecution never opposed.
Irungu was injured in his left chest after he reportedly shot himself.
On Wednesday, October 17, Justice Wakiaga also warned the media against engaging prejudicial reporting of the case, saying that he does not like being influenced before hearing a case.
"I'm an old school judge and I do not like it when I'm influenced before I hear a case…media should guard against what to put out," he said.
He also warned the prosecution against leaking sensitive information to the media.
Maribe was being detained at the Langata Women Prison while Irungu was held at the Industrial Area Remand Prison in Nairobi. Jacque Maribe was declared mentally fit to take plea following a court ordered assessment.
On Thursday, October 18, police arrested a fourth suspect in connection with the murder. The suspect, Jennings Orlando who is a GSU commando officer is being detained in Kiambu where he was arrested.
Orlando, 31, who is Irungu's friend is lined up as a state witness in the murder of Monica Kimani, which occurred on September 1