10 Most Followed Kenyans on Twitter as at December 2018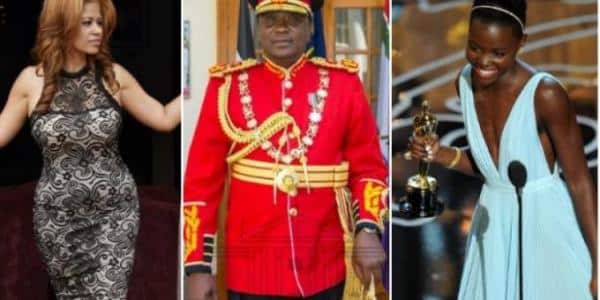 Twitter has grown into a popular site for social interactions and as a source of news for many Kenyans.
It would explain why Kenyans are second place in Africa when it comes to penetration of the mobile app, only below South Africa.
Kenyans.co.ke set out to research on the people driving conversations and interactions on Twitter with their massive following.
10. Chris Kirubi (1.09 million followers)
Chris Kirubi is a Kenyan businessman, entrepreneur, industrialist and philanthropist. He is a Director at Centum Investment Company Limited, a business conglomerate, in which he is the largest individual shareholder.
He is also CEO of Capital FM and holds large equity stakes in UAP Insurance and the Kenyan franchise of DHL. Furthermore, he is a shareholder in Nairobi Bottlers, a bottling franchise for Coca-Cola.
9. Julie Gichuru (1.09 million followers)
Julie Gichuru is a Kenyan entrepreneur and media personality with investments in media, fashion retai, and entertainment sectors. She is an Independent Director at Acumen Communication Limited and is a Fellow and trustee of the Africa Leadership Initiative EA.
Julie's career in the media spans over the past 15 years and her work cuts across the fields of broadcast, print, and digital media. Julie has also pioneered an impressive number of television shows.
8. Robert Alai (1.14 million followers)
Robert Alai is a Kenyan blogger, internet entrepreneur, and cyber-activist. He has earned notoriety for his relentless stream of social rants.
He has been sued and briefly incarcerated for his highly opinionated political and sometimes personal attacks on politicians, government officials, and business leaders. Alai was awarded the Head of State Commendation in 2017.
7. Boniface Mwangi (1.19 million followers)
Boniface Mwangi is an award-winning photojournalist, and a politician involved in social-political activism through his initiative, Team Courage.
Team Courage is a movement that aims to instill a sense of hope and self-belief in a generation of young changemakers by enabling patriotic citizens to take bold and effective actions in building a new Kenya. He is known for his images of the post-election violence that hit Kenya in 2007–2008.
6. Jeff Koinange (1.36 million followers)
Jeff Koinange is a journalist and talk show host of Jeff Koinange Live on Citizen TV since February 2017. He is also the breakfast host at HOT 96, the English station owned by Royal Media Services.
He previously served as the Africa correspondent for CNN and CNN International from 2001 to 2007, and later as a chief reporter at K24 TV from 2007 to December 2012.
He has also worked with KTN on his Jeff Koinange Live brand and previously served as the Chief Anchor, Africa for Arise Television Ltd based in Johannesburg.
5. Lupita Nyong'o (1.42 million followers)
Lupita Nyong'o is the daughter of Kisumu Governor Anyang' Nyong'o. She was born in Mexico City where her father was teaching and was raised in Kenya from the age of one.
Nyong'o began her career in Hollywood as a production assistant. In 2008, she made her acting debut with the short film East River and subsequently returned to Kenya to star in the television series Shuga (2009–2012).
She had her first feature film role as Patsey in the movie in 2013, for which she received critical acclaim and won several awards, including an Oscars award for Winner for Best Supporting Actress.
Lupita was cast in the popular movie Black Panther as Nakia.
4. Larry Madowo (1.6 million followers)
Larry Madowo is a journalist and the BBC Africa Business Editor. He was previously a news anchor who specialized in technology, current affairs, political interviews, and entertainment.
The journalist who has previously worked for other major networks including KTN and CNBC Africa resigned from NTV in March 2018 to join the BBC.
He hosted a radio show on Nation FM until the station was shut down. He also wrote a column in the Daily Nation every week and hosted a popular Friday night show called The Trend
3. Raila Odinga (2.04 million followers)
Raila Odinga is a seasoned politician who served as Prime Minister of Kenya from 2008 to 2013, and has served as Leader of the Opposition since 2013.
He was Member of Parliament MP for Langata constitency from 1992 to 2013. He served in the Cabinet as Minister of Energy from 2001 to 2002, and as Minister of Roads, Public Works and Housing from 2003 to 2005.
Odinga was appointed High Representative for Infrastructure Development at the African Union Commission in 2018.
2. William Ruto (2.1 million followers)
William Ruto  has been the Deputy President of Kenya since 2013. He served as the Acting President of Kenya between October 5 and October 8 in 2014 while President Uhuru Kenyattawas away at the Hague.
He previously served in various ministerial positions including the Ministry of Agriculture and Ministry of Higher Education. He was Secretary General of KANU, the former ruling political party, and MP for Eldoret North Constituency between December 1997 and January 2013.
He was appointed to the position of Assistant Minister in the Office of the President by former President Daniel Moi in 1998. He was promoted to be Minister for Home Affairs in August 2002. He also previously served as the Chairman of the Parliamentary Select Committee on Constitutional Reform in the 9th Parliament.
1. Uhuru Kenyatta (3.41 million followers)
Uhuru Kenyatta is the President of the Republic of Kenya He served as the Member of Parliament (MP) for Gatundu South from 2002 to 2013.
He is the son of Mzee Jomo Kenyatta, Kenya's first President, and his fourth wife Mama Ngina Kenyatta.
Uhuru was re-elected for a second term in the August 2017 general election, winning 54% of the popular vote. However, Uhuru's election was successfully challenged in the Supreme Court of Kenya by his main competitor, Raila Odinga.
A new presidential election was held on 26 October, 2017 which he won, with 39% participation due to voter fatigue, voter apathy and being boycotted by the opposition.
By DENIS MWANGI