List of shame: FBI seeks 3 governors, CS over Akasha links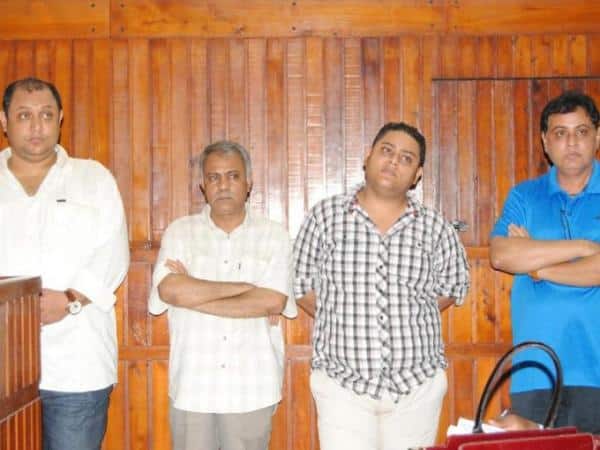 Three governors, a Cabinet secretary, two judges and a senior official in the office of a powerful politician are among tens of Kenyans being sought by the US over links to the notorious Akasha drugs family.
The list of shame — including a sitting MP, a former governor, current and former top police bosses and influential businessmen — is likely to cause a political storm.
Close allies of President Uhuru Kenyatta, Deputy President William Ruto and Opposition leader Raila Odinga are among those mentioned in the documents exchanged between Kenyan and US law enforcement agencies.
Two of the governors are from the ruling Jubilee Party, while the third was elected on an ODM ticket.
The ODM governor is sought alongside his brother.
Formal extradition requests have not yet been made but are likely.
"They are wanted by FBI over their links with the Akashas. The two Akasha brothers have extensively named them in their statements," a highly placed source in government told the Star yesterday.
Director of Public Prosecutions Noordin Haji confirmed they have already received several requests in regard to the prominent Kenyans named by the Akashas.
"We have had interactions with them, there have been questions and there are areas where we need to cooperate. Once we agree on how to proceed, then formal extradition requests will be made by the US," the DPP told the Star.
If extradited, the officials who have been named in New York State court papers, will have to answer to charges including aiding and abetting drug trafficking.
The Akasha family has been involved in the drugs trade for years, according to US diplomatic cables published by WikiLeaks. The Satao Project, a private company focused on fighting poaching, has said the Akasha network was also linked to around 30 tonnes of ivory seizures. U.S. prosecutors have said Baktash Akasha was the leader of the organisation.
On October 26 two brothers, Baktash Akasha, 41, and his brother Ibrahim Akasha, 29, each pleaded guilty before US District Judge Victor Marrero in Manhattan to seven criminal charges, including distribution of heroin and methamphetamine and conspiracy to import the drugs into the United States, according to court records.
The charges carry a minimum sentence of 10 years in prison and a maximum sentence of life.
The case stemmed from a US Drug Enforcement Administration probe into the Akasha organisation, which US authorities described as a major smuggling operation connecting the poppy fields of Afghanistan to European and US cities.
The brothers were extradited to the United States from Kenya in January 2017, along with Gulam Hussein, a Pakistani national charged with heading a drug transportation network, and Vijaygiri Goswami, an Indian businessman accused of managing the Akasha organisation's drug business.
Their family patriarch, Ibrahim Akasha was felled by a hail of five bullets, apparently fired by a professional marksman at close range in Amsterdam's red light district in the year 2000.
The Cabinet secretary who is wanted by the FBI was massively involved in Jubilee campaigns.
Also in the list are a well-known female and a male judge, both whom have had a long career in the Judiciary. They are accused of helping protecting the Akasha empire.
Ironically, one of the Judges has seen to be tough on crime and a stickler for the letter of the law, delivering landmark rulings that upset the Executive
The CAS on the the list is a renowned politician rewarded by Jubilee for swimming against the tide on ODM political turf.
Then there is a vocal MP from the Rift Valley allied to Ruto and serving a second term in office. He has been outspoken in opposing the ongoing graft purge.
Also on the wanted list is a former Jubilee governor who lost in controversial circumstances in the last election and a former female MP from Mount Kenya region.
The ex-MP is known to have deep pockets and serious political connections.
A controversial politician from Western Kenya who ran for election in Nairobi in 2007 is also on the list of shame.
A senior county official from the Coast is also being sought, alongside a senior police officer who previously served at the Coast and was considered considered to be corrupt.
In what has unearthed the rot in the Kenyan Police Service, a former top officer at the Directorate of Criminal Investigations is also on the wanted list.
The chief federal prosecutor in New York, Geoffrey Berman, described Baktash and Ibrahim as the leader and deputy, respectively, of a fabulously lucrative international drug ring.
"Not only did they manufacture and distribute narcotics for over two decades, they kidnapped, beat, and murdered others who posed a threat to their enterprise," Berman said.
"When the brothers encountered legal interference, they bribed Kenyan officials — including judges, prosecutors and law enforcement officers — in an effort to avoid facing the charges against them in the United States," court documents say.
The two Akasha brothers signed a guilty plea with US authorities in an attempt to get a more lenient prison term for charges of drug trafficking, bribery, violence and murder charges.
The brothers are scheduled to be sentenced on February 1 next year.
The US judge has the authority to impose whatever sentences he sees fit, with a mandatory minimum jail term of 10 years. The sentence may also include 20-year sentences in a US prison for obstructing justice.
As part of their plea bargain, US government will seize and auction properties worth billions of shillings owned by the Akasha brothers.
Court documents seen by the Star show the American authorities struck a deal with Bakhtash Akasha and Ibrahim Akasha in exchange for a lenient punishment after their conviction.
Berman says in the court documents that the two brothers agreed to surrender their properties said to have been obtained directly or indirectly from the proceeds of drug trafficking.
The duo also agreed to forfeit properties used or intended to be used to facilitate commission of the offences.
"It is further understood that any forfeiture of the defendant's assets shall not be treated as satisfaction of any fine, restitution, cost of imprisonment or any other penalty the court may impose upon them," Berman said.
The four defendants were arrested in Mombasa, in November 2014 in a US-led sting operation, in which authorities said the Akasha organisation provided 99 kilograms of heroin and two kilograms of methamphetamine to DEA informants posing as drug traffickers.
Hussein and Goswami pleaded not guilty to related charges after they were extradited. They have not appeared at recent court hearings or filed pre-trial motions, court records show. Lawyers representing them could not immediately be reached, and Dawn Dearden, a spokeswoman for the prosecutors, declined to comment on the status of their cases.
A fifth defendant accused of working with the Akasha organisation, Muhammad Asif Hafeez, was arrested in London in August 2017. The United States has requested his extradition.