First Class degree holder in Economics languishing in the village

A Bachelor of Economics and Statistics First Class Honours graduate is wasting away in Lelbatai Village in Tengas Ward, Baringo County due to lack of formal employment.
Ruth Rono, who graduated from Chuka University four years ago, is the sole bread-winner of her family, given her mother is gravely ill and her father allegedly abandoned them.
Ms Rono, a first born in a family of three, was forced to retreat to the village so as to take care of her family, including her younger sister who is living with disability.
The 27-year-old graduate engages in menial jobs in Lelbatai Village to raise money for food and other basic needs, including her siblings' school fees.
On top of money-searching activities, she literally runs the family single-handedly, including fetching water from the stream for domestic use, cleaning her family's three grass-thatched houses, and milking the only goat the family has.
Ms Rono attended Tabagon Girls' High School, where she scored an A- (Minus) in her KCSE exams.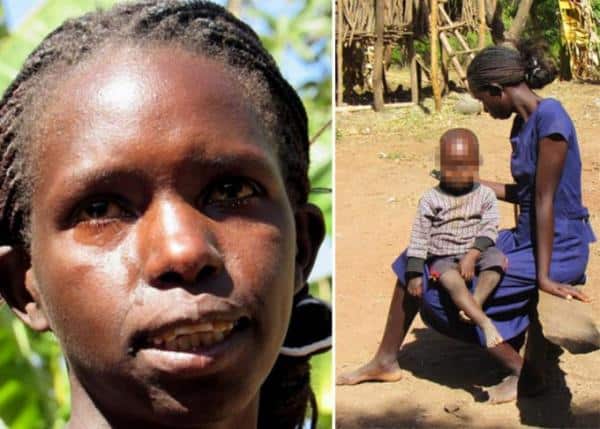 Given her humble family background, studying through high school was a struggle.
Her parents only managed to raise Ksh11, 000 for the entire four years she spent at Tabagon Girls' School.
Her education was significantly funded by well-wishers, who could only help so much. By the time she was completing her secondary education, she was having a school fees arrears of over Ksh90, 000.
A harambee, which was arranged to raise the needed Ksh90, 000, yielded only Ksh50, 000, forcing the school to write off the balance of Ksh40, 000.
The National Government sponsored her university education at Chuka, where she scored extremely admirable grades.
"After completing university education, I spent time in Nairobi doing casual jobs. However, my stint at the capital lasted only four months. My mother asked me to return to the village. My father, at the time, had set on fire our family's three grass-thatched houses following a dispute he had with mum," said Ms Rono.
With little savings stashed in her bag, Ms Rono returned home to find her mother and two siblings had taken refuge in their neighbour's house.
She embarked on reconstructing her family's houses and looking into their basic welfare.
"I remember one day my sister starved to desperation. I, thereafter, vowed not to return to the capital city; instead, resorted to taking care of my family," she said.
Ms Rono has urged well-wishers, who are in a position to offer her employment, to come to her rescue.
"Should I be employed, I am certain to take my ailing mother to a good hospital. I would also be able to educate my siblings, build them a good home and bring change to the society, where I can," she said.
Cheplambus Location Assistant Chief Eric Kiplagat said he wishes the high-ranking leadership in Baringo County would assist Ms Rono.
Tenges Ward MCA, Silas Tochim, said he would try offer assistance to the graduate.
"I am aware that she has applied for internship at the [Baringo] county offices. I will try push for her get a decent job there, even as she looks for greener pastures," said Mr Tochim.
Ms Rono's story mirrors the state of youth unemployment in Kenya, which continues to cause headache to the government.
According to the International Labour Organization (ILO) Kenya's youth unemployment rate has shown little to no positive development, and as at 2016, stood at a staggering 22 per cent.
BY EVANS KIMAIYO IN BARINGO COUNTY.
-edaily.co.ke