Ruto's Mistake That Cost Raila, Mboya Presidency – Mutahi Ngunyi [VIDEO]
Ruto's Mistake That Cost Raila, Mboya Presidency – Mutahi Ngunyi [VIDEO]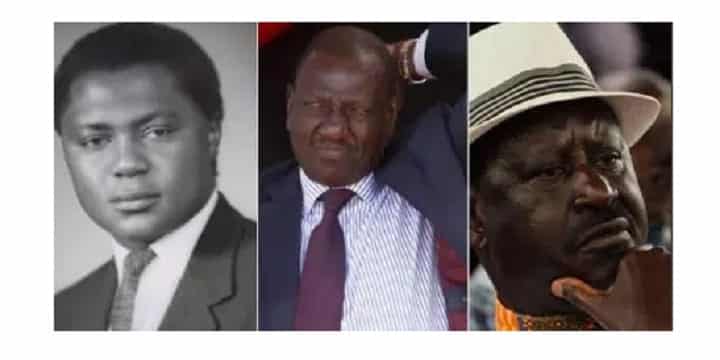 Political analyst Mutahi Ngunyi has revealed the one mistake that Deputy President William Ruto is committing that cost Raila Odinga and Tom Mboyathe Presidency.
Through the weekly show, The 5th Estate, the panelists indicated that both Raila and Mboya were well placed to take over from their incumbents.
The team from Mutahi's Fort Hall School of Government indicated that the two were impatient with Mwai Kibaki and Jomo Kenyatta respectively.
"Ruto has fallen into the same trap that TJ Mboya and Raila did. They would have inherited the presidency but like Ruto, both were impatient," one panelist noted.
Opining that the two would likely have ascended to power had they played along their bosses, the panelists urge Ruto to lie low instead of being so obvious on his intent.
"Is there something that Ruto is doing wrong? Is Uhuru attacking Ruto using handshake and Matiang'i for good reasons," Mutahi's team posed.
Equally, the team rubbished the notion that the appointment of Interior CS Fred Matiang'i as the Chairperson of the National Development Implementation and Communication Committee had taken powers from DP Ruto.
According to the Fort Hall School of Government, Ruto's position as the deputy remains intact as he will continue supervising government's initiatives including how Matiang'i executes his new duties.
Besides, the team cautioned politicians against leading an onslaught against the Judiciary over the war against corruption.
"Because Kenyans are not stupid, we ask two questions; Do politicians want Chief Justice David Maraga to jail people because politicians have declared them guilty? Is Maraga justified in shredding the DPP and the DCI or are these fellows shoddy?" he posed.
Concluding that the institutions responsible for investigating and prosecuting the corruption cases need to up their game, the panelists urged them to take up the #MaragaChallengequipping that "no evidence, no conviction!"
–kenyans.co.ke
Ruto's Mistake That Cost Raila, Mboya Presidency – Mutahi Ngunyi [VIDEO]