DP William Ruto pulls fast one on Raila again
ODM's hopes of capturing Wajir West seat scuttled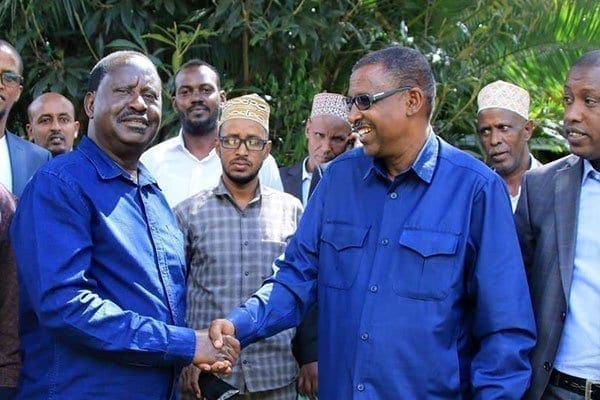 Deputy President William Ruto on Tuesday inflicted a fresh political blow on opposition chief Raila Odinga when, once again, his hand showed in the last-minute withdrawal of the Orange Democratic Party from the Wajir West by-election.
The ODM withdrew from the race to save face after learning that the party's candidate, Prof Mohamed Elmi, had decamped to Jubilee Party.
Hours later, Prof Elmi announced his defection in the company of the Deputy President at the latter's residence in Karen, Nairobi.
The ODM director of elections, Mr Junet Mohamed, had announced in a communication to members that the party would not participate in the upcoming Wajir West by-elections scheduled for April 25 "as earlier announced".
MEETING
He said the party had arrived at the decision following consultations with the top leadership of the Jubilee Party, "during which we agreed to reciprocate Jubilee's earlier decision to withdraw from the Migori, Ugenya and Embakasi South by-elections".
Related Content
ODM pulls out of Wajir West poll
Raila's ODM party at a cross-roads after election loss
The latest political blow to ODM came hot on the heels of the party's loss in the Embakasi South and Ugenya by-elections, and was a double blow to the Orange Party after its immediate former Wajir West MP, Mr Mohamed Kolosh, defected to Jubilee Party in February and was received by the DP.
The Nationestablished that Prof Elmi had met the Deputy President last Saturday and agreed to pull out of the race.
The Deputy President is also said to have met another key candidate in the race who promised to withdraw in due course.
Prof Elmi's withdrawal now reduces the race to a fight between Mr Kolosh and Kanu's Ibrahim Mohamud Abdirahaman, in effect a battle between the DP and his Rift Valley nemesis Gideon Moi.
Others in the race are LPK's Ali Noor and Agano Party's Abass Nunow Shihaw.
CONTENDERS
The Nation learnt that former presidential adviser Abdikadir Mohamed, MPs Rashid Kassim (Wajir East), Ahmed Bashane (Tarbaj), Adan Keynan (Eldas), nominated senator Fariya Haji and Governor Abdi Muhamud played a key role in convincing Prof Elmi to decamp to Jubilee. The Degodia community elders are said to have started talks last week that led to Prof Elmi's withdrawal.
Yesterday, Prof Elmi said he would rally behind Mr Kolosh.
Prof Elmi said the decision was arrived at following the intervention by the Degodia clan over fears that his candidature would create divisions in the community.
He insisted the decision had nothing to do with ODM.
"I have today withdrawn from the Wajir West parliamentary seat by-election following days of negotiations within our community. ODM had nothing to do with it," he said.
He noted that the decision was arrived at at the community level, adding that "I believe it is the best way forward."
Dr Keynan, who led Wajir County leaders in a mass defection from ODM to Jubilee before the 2017 polls, said the move would strengthen the clan, and unite locals.
"We have opted as a community that we cannot be divided along ethnic lines. We will support the Jubilee candidate because we are after transforming Wajir," Dr Keynan said.
He said the region would continue to invest in the leadership of Jubilee Party because it is an outfit that is founded on policies that would make Kenya better.
According to Dr Ruto, the withdrawal of Prof Elmi should not be seen as a move to back the Jubilee candidate, but a bold step that would develop Wajir.
"It is not about this or that political candidate but the future of Wajir," Mr Ruto explained.
VICTORY
Dr Ruto observed that for a long time, petty politics had dominated the northern parts of Kenya, derailing development.
"We must bring to an end the marginalisation song. We therefore must define a clear pathway of how to get out of it; let us manage our politics so that it can focus on changing the lives of our people," he said.
Last Friday, President Kenyatta met Mr Kolosh and National Assembly Majority Leader Aden Duale at State House in Nairobi and exuded confidence that his party would win the seat.
"We assured our party leader that North Eastern is a Jubilee territory, and we shall mobilise wananchi and members of our party in Wajir West so as to deliver the seat to our party," Mr Duale said after the meeting.
ODM LOSSES
He said as President Kenyatta continues "uniting the nation and building a strong national brand called Jubilee, Kenyans from all tribes, regions and religions can now call it their party of choice".
The Jubilee Party leaders have been bragging after ODM lost last Friday's Embakasi South and Ugenya by-elections, areas perceived to have been its stronghold.
The DP and his allies said the losses were a sign of what would happen in the 2022 polls, saying they would show their rivals dust.
By LUCAS BARASA and KENNEDY KIMANTHI
-nation.co.ke