'Iron Lady' Aisha Jumwa to contest for Kilifi Governor seat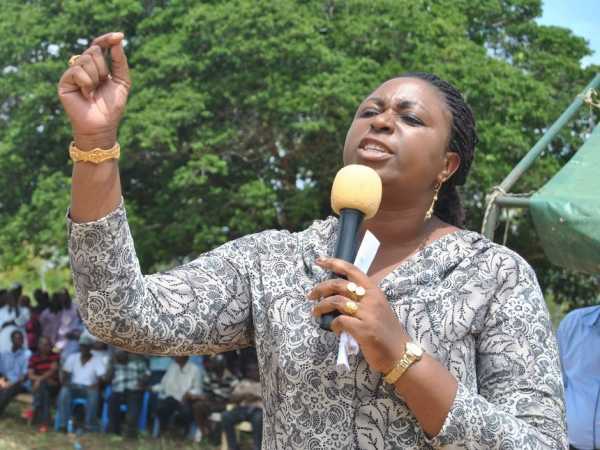 Vocal, combative and controversial Aisha Jumwa wants to be the governor of Kilifi.
The Malindi MP is gaining wide popularity, called the Queen of the Coast and the Iron Lady, giving back as good as she gets in male-dominated rough and tumble politics.
She is he kind of woman who defied her husband when he told her to stop her political activism years ago.
Jumwa refused, he demanded his dowry back, she said suit yourself and is said to have driven back the cow herself.
Shouting matches and antics keep coming thick and fast.
A video recently emerged of her changing the lyrics of a Christian song to 'worship' Deputy President William Ruto — and singing it.
Recently Jumwa snatched the microphone from ODM's Edwin Sifuna at a funeral and told him to talk politics elsewhere. She was likened to a female freedom fighter.
The other day, she told off Cotu boss Francis Atwoali for shaming her large body, saying his type of women are "the size of a Probox" and "cannot handle a V8 which is [my] calibre".
Jumwa was once very close to ODM boss Raila Odinga but was expelled from ODM for backing Deputy President William Ruto. Raila asked her to apologise and she said no. The Political Parties Dispute Tribunal stayed the expulsion.
Jumwa has declared she will wade into the male-dominated field and be in the history books with Governors Charity Ngilu (Kitui) Joyce Laboso (Bomet) and Anne Waiguru (Kirinyaga).
Jumwa, 43, is studying for a bachelor's degree in International Leadership and Governance at International Leadership University and hopes to succeed Amason Kingi who is completing his second term.
"The ambition is there, I will vie in Kilifi county come 2022 to work for my people," the MP told the Star in a telephone interview on Tuesday.
The mother of three she has wanted to run for governor since 2015 and she says the vision is closer to reality. It's time to take a bigger responsibility for the people of Kilifi, she says.
"I was the first woman to be elected under the new Constitution as the Woman MP of Kilifi, then I shifted the goalpost to a single constituency and won as well. I feel I have something big to offer, thus my resolve," she said.
Jumwa has defeated men before and says she battle heavyweights who have also declared interest in becoming governor.
They include Chief Administrative Secretary for Lands Gideon Mung'aro who lost to Kingi in 2017 while running on a Jubilee ticket.
Also in the race is the Governor's brother, first-term MP Michael Kingi, whom insiders believe could have the upper hand.
Others are Kenya's High Commissioner to Tanzania Dan Kazungu, Kilifi North MP Owen Baya, CEC for Education Professor Gabriel Katana who dropped his bid in 2017 to join Kingi's camp.
Kilifi South MP Ken Chongarecently declared interest in the seat too.
Governor Kingi has not said whom he will support or give political direction to the county about supporting ODM or Jubilee.
Some insiders say whomever Kingi supports will become the next governor.
Jumwa stands out as an aggressive, outspoken and fearless woman who has beaten all odds to emerge as a heavyweight not only in Kilifi county but also at the Coast and at the national level.
Her recent political woes with ODM have boosted her popularity.
Love her or hate her, Jumwa's star is rising.
Sacrifices were made, including leaving her marriage to join active politics.
She, of the kiuno kina kazi yake fame, dumped her husband and paid back dowry, after which she was free.
In February this year, she linked her ODM troubles and expulsion to what she called her refusal to have sex with Mombasa Governor Hassan Joho.
Rebel Jumwa says she doesn't regret supporting DP Ruto for president.
Political analyst Mwaarifa Mwakumanya joined Kilifi county elected leaders in saying she was right to cut off Sifuna's speech and seize the microphone.
What transpired is now being likened to the legendary heroine Mekatilili Menza who slapped British District Commissioner Arthur Champion in public while rebelling against colonial rule.
Early this year, Jumwa also took pm Governor Joho and told him not to meddle in Malindi politics. She said he was using youths to fight her politically.