Optiven becomes top company in Kenya to Partner with Diaspora Organizations
Optiven becomes top company in Kenya to Partner with Diaspora Organizations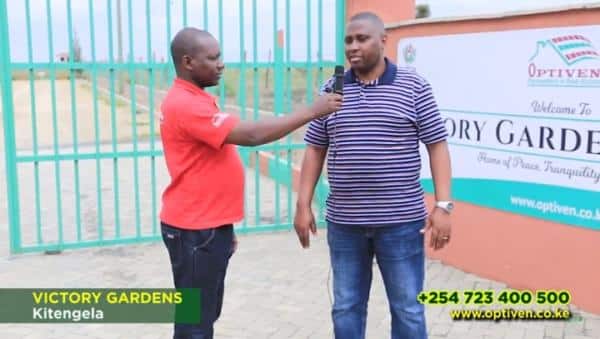 Optiven's partnership with KCFA has been one of it's own: Optiven has been in the forefront of championing its vision of Economically and Socially empowering and transforming the Society. In pursuance of this vision, Mr Cosmas Mbugua from Boston Massachusetts becomes the latest millionaire by securing a value added plot worth 1.5M during the Kenya Christian Fellowship In America (KCFA) annual Conference.
The Optiven partnership with various organizations in USA has gone to a higher level as yet one more investor secured a value added plot at the Garden of Joy, one of our prime properties in the outskirts of Nairobi in Machakos County.
The blessed winner was Mr Cosmas Mbugua of Boston Massachusetts. This one person who will smile all the way to the bank as the property appreciation will hit 6 million in the next 4 years.
The Optiven CEO was represented by Mr Muteti (Senior Sales Manager) in a very well attended KCFA event held in the James Madison University, Harrisonburg, VA where Optiven drove home its commitment to the Big 4 Agenda targeting to enable over 300, 000 Kenyans to have affordable homes.
Optiven offers a two(2) steps solution towards home ownership where a customer is allowed to pay a property on installments up to two years, house designs offered, contractors available and customers are linked to financial institutions that fund their construction. A good example is a project viz Victory Gardens in Kitengela where many Diaspora clients have invested heavily

Once the house is done, Optiven find a tenant to the client, manages the house through our sister company – Property Management company _PMC Estates  www.pmcestates.co.ke
This make Optiven group as the only company that offers a complete solution to our 10,000 strong customers. This is what our Kitengela projects look like & check what your colleagues in Diaspora are doing through Optiven. This unedited FB will send you thinking on how far your friends are moving fast with Optiven – View the post & like in order to be seeing our next very exciting projects that we allow you to pay in two or three years
Optiven group has partnered with other organizations in USA such as the Dear Awards, Kenya Usa Diaspora sacco, K-Nads, KEMEN, KWITU, Ihopee, Kenyans at the Park (UK), Boston Gold Community, Churches, USA based media houses plus tens of charitable organizations.
Optiven has been of direct financial support to Kenyans based USA firms as we also sell our properties in that market. This is in line with our vision of Economically and Socially empowering and transforming the Society.
As an organization, we are not inspired by money making but by changing lives across the globe.
We have over 80 plus Optiven Representatives in the USA. We thank them for subscribing to our vision. Optiven Group plan to honour them later this year or early next year. We view these representatives as our Ambassadors & we really honor them greatly.
Contact Optiven Group:0723 400 500 Email: [email protected] Website: www.optiven.co.ke
George Wachiuri Blog: www.georgewachiuri.com
YouTube: https://www.youtube.com/user/OptivenEnterprises/