VIDEO: Chaos at City Hall As Battle Against Elachi Turns Ugly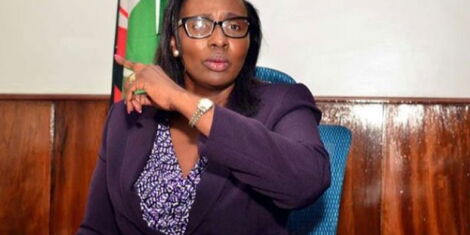 VIDEO: Chaos at City Hall As Battle Against Elachi Turns Ugly. Chaos rocked Nairobi County Assembly when Members of County Assembly (MCAs) clashed over a petition to impeach Speaker Beatrice Elachi.
Daily Nation on Tuesday, October 29 reported that the county assembly had turned into a war zone as MCAs went against each other over the plan to oust Elachi.
"The rival factions are now fighting each other. The chaos broke after the group supporting Elachi stormed the other group's press conference hurling objects at them before physically dragging them out of the area," the daily informed.
"It is not possible to impeach a speaker with 21 members. Members from the other side should stop flogging a dead horse, because Guyo is a dead horse," Charles Thuo, MCA Dandora narrated in support of Elachi.
Waithera Chege, MCA South B noted, "The notice of the impeachment of the speaker has been forwarded to clerk Jacob Ngwele. We also report that Ealchi has been served court orders to stop operating on behalf of the county."
This is when chaos erupted with Elachi's supporters hurling objects at the MCAs before physically dragging them out of the assembly buildings.
The speaker was in the spotlight for what the MCAs claimed was an abuse of office in a meeting they held on Monday, October 28.
Led by Majority whip Chege Waithera, the MCAs started collecting signatures to oust the speaker barely a month after her return to the office.
The Standard reported on Monday, October 28 noted that the petition aimed to impeach Elachi on the same grounds as what happened on September 2018.
Elachi was accused of undermining the authority of the County Assembly Service Board, abuse of office, gross misconduct and failure to provide leadership.
"Last year, 103 out of 107 MCAs voted for her to go home. We will vote for her to go home again. The court faulted the process which we used to remove her. This time the right procedure will be followed," Waithaka MCA Anthony Kiragu narrated.
Source-kenyans.co.ke