VIDEO: President Ruto Prays For Raila And The Opposition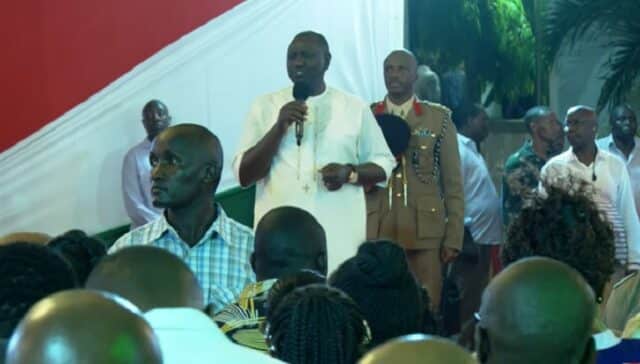 President William Ruto spared a moment to pray for the opposition while praying for the country while ushering in the new year. Ruto who is in Mombasa county for New Year celebrations in the company of mama Rachel Ruto and other leaders took it to the Lord in prayer literally.
He put political differences aside as he prayed for his administration and the nation at large, including the opposition led by ODM leader Raila Odinga.
"Father we want to pray for those of us who are in government that you will give us the wisdom, knowledge and understanding that we will not only do that which is right in your perfect will, but that which will give every Kenyan an opportunity to be their best.
"Father we want to pray even for our friends in the opposition that you will give them the appropriate knowledge so that they can work with us for the good and prosperity of our nation," prayed Ruto as captured in the video below.
In his new year message that preceded the prayers, the head of State commended Kenyans for enduring what he termed as a challenging year as a result of the Covid-19 pandemic and economic challenges brought about by the war in Ukraine.
"The country has experienced a myriad of challengesstemming from the pandemic to economic challenges brought by the war in Ukraine."
"We thank God that Kenya has been able to survive through those challenges and we look forward to a prosperous 2023." Said the President as he ushered in the new year in Mombasa on December 31.
He added that he has a solid plan for economic recovery, explaining that he has taken a bold step to do away with subsidies which he claimed were initially rolled out for political benefit.
Source-https://www.pulselive.co.ke/
VIDEO: President Ruto Prays For Raila And The Opposition