How Fred Matiang'i Staged Siege At His Karen Home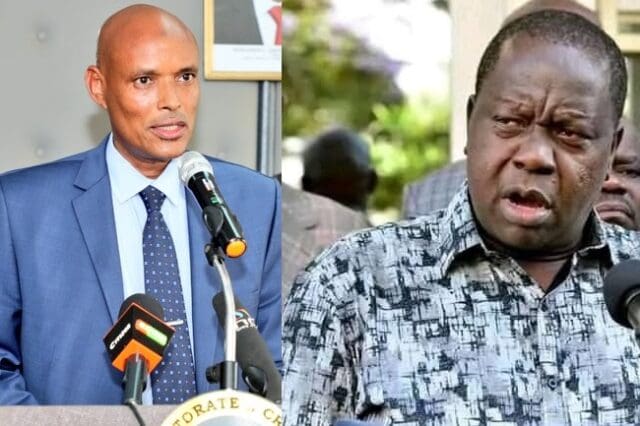 DCI boss  Amin Mohamed is accusing former Interior Cabinet Secretary Fred Matiang'i of stage managing a siege at his Karen home on Wednesday night.
He said the DCI will take firm and bold action against all involved in the matter.
The DCI is now probing whether the former Interior CS stage-managed the incident.
"Our preliminary investigations have recovered a well-coordinated and deliberate attempt to spread false information and incite public fear, unfortunately spear-headed by a person of the standing of a former Interior CS," the DCI boss said.
According to the DCI, the former CS had informed his guards that he was expecting guests who included lawyers and instructed them to give them access to his house upon arrival.
Moments later the lawyers arrived before being joined by other political leaders led by former Prime Minister Raila Odinga.
"At around 9.30pm, Mr Odinga and team left the home to go and join the lawyers at the press conference. Dr Matiang'i then informed the guards that police would be arriving accompanied by the media to arrest him and instructed them to allow the police access to his home but lock out the media," he said.
The DCI boss further accused Mr Odinga's communication team of falsely alerting newsrooms that the former CS's home had been surrounded by an elite squad of the police.
On the state of various investigations both corruption and criminal, the DCI boss said his office was currently investigating several other criminal and corruption allegations against a number of players but they were yet to conclude their investigations.
"For the record I can confirm that none of the cases and investigations so far have reached the stage which requires the assistance or attendance of Dr Matiang'i. DCI treats the allegations of the raid at the home of Dr Matiang'i seriously and has conducted initial investigations into the matter," he said.
Asked to explain the presence of a police Land Cruiser and that of a Subaru KDK 488L that were captured gaining entry into Dr Matiang'i's front gate, he said that they were still investigating whether the vehicles belonged to the service.
"As I have said, we are on with the investigations and we are yet to ascertain whether the vehicles belonged to the police service," he said.
He also said that already, a number of workers at the home of Dr Matiang'i had recorded statements in relation to the matter.
On Thursday, regular officers and those drawn from DCI pitched camp at the home of the former CS from 11.30am and had not come out of the compound by the time the Nation team left the Karen residence.
By Nyaboga Kiage
Source-https://nation.africa/
How Fred Matiang'i Staged Siege At His Karen Home