Kenyans celebrate Barack Obama Day in style
Kenyans celebrate Barack Obama Day in style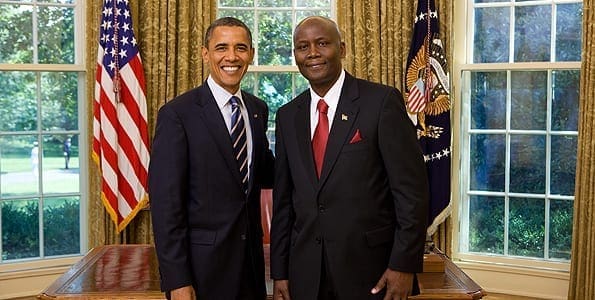 January 20th 2009 was no ordinary day for Americans and more so for Kenyans, It was a momentous day, the day that history was changed forever. The unthinkable, the unimaginable and the impossible became a reality. He did it, the "Yes we can man", Barack Obama became the president of the United States of America.
As in Kenya and all over the world, people celebrated the day in all manner of styles. They gathered, they drank, ate and danced all night long. In Washington DC where action was concentrated, there were many inauguration Balls many of which were attended by celebrities.
One of the inauguration party was held in Rockville Maryland just few miles from Washington DC and it is here that all Kenyans gathered and celebrated in style. It was an international gathering as there were many nations represented. They came from Ghana, Togo, Cameroon, South Africa, Malawi, Zimbabwe, Tanzania, Uganda, Nigeria and USA among many other countries.
This party was organized by the Kenya cultural and Heritage organization in conjunction with a few local Christian pastors. The most important aspect was giving thanks to God Almighty who made this historic day possible. With God all things are possible was the resounding message that was preached by the pastors .The main message was delivered by pastor Katharima of Christ worship center who preached about King David and his brothers and how David though insignificant was chosen as the King of the children of Isreal.Apart from the preaching there was praise and worship by different groups from all over the continent of Africa.
After the praise and worship session there was a dancing celebration session led by Haki Haki band, the Boys choir and
Friends of Sironka maasai Dance Troupe
group, all from Kenya.
The artists who perfomed were as follows:
1. Apostle Augusta Baraza with Kenyan Heritage in the US.
2. Tonny Nyadundo, the top famous traditional musician
3. Haki Haki Band- Kenyan Band
4.George Okudi- Winner of KORA African Music Award
5. Pastor Sisi Akuna from Nigeria
6. Josephine Atanga from Cameroon
7. Kenya Boys Choir from Kenya
8. Masai Warriors from Ngong/ Kiserian Kenya
9. Churchil Ndambuki, top comedian in Kenya
10. John Komanya from Tanzania.
---
Kenyans celebrate Barack Obama Day in style
CLICK

HERE

FOR MORE PICTURES