Celebrating Kenyan Achievements in the Diaspora By David Karangu

Celebrating Kenyan Achievements in the Diaspora By David Karangu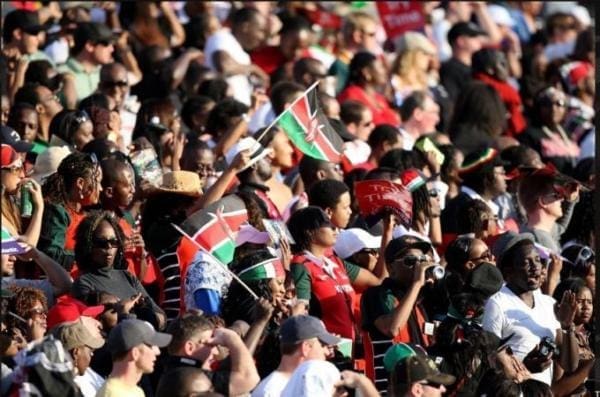 A very prominent Kenyan who has, by virtue of hard work and ambition, blazed a trail that will have many Kenyans panting as they try to catch up. Karangu is President and Chief Operating Officer of Mercedes Benz of Augusta and Fairway Ford of Augusta. Previously, he held progressively responsible positions with a variety of automotive companies. He is a past member of the Board of Directors of Augusta Prep School, and the Boys and Girls Clubs of Augusta. He also holds a bachelor's degree in marketing from Morgan State University. He was recently named to the Board of Directors for MCG Health Inc.
It is no small feat to be mentioned in the Black Enterprise Magazine's top 100 black owned companies (in #41 in 2003 and #42 in 2004) but his car dealership has achieved that status. He has also been interviewed on CNN as one of the most prominent black businessmen in the US car market.
David Karangu, 38, owns Kenya Auto Enterprises, an Augusta-based company which holds the Mercedes Benz franchise. Augusta is the second-largest luxury car market in the state of Georgia after state capital Atlanta.
Karangu's franchise operates under the name Kenya Auto Enterprises and employs over 100 people. Annual sales exceed $66 million (about Sh5 billion). His dealership is ranked 41 out of 100 in the US in a survey by Black Enterprise magazine. Kenya Auto Enterprises is also quoted in the Augusta Chronicle.
It can be traced back to his days at Morgan State University,
Baltimore
, in the 1980s when General Motors came scouting for talent and he Ford as a manager. In 1997, a Ford dealership was offered for sale and
Karangu
, then only 30, seized the opportunity.
The dealership was earning approximately $10 million (Sh740 million) in sales annually. By 2003, reports Black Enterprise magazine, earnings had shot up to around $72 million.
He has now acquired a new BMW/Subaru/Volkswagen dealership (March 2007) and divested his economy car businesses. His focus is now going to be on luxury cars.
Born in Atlanta in 1967, Karangu came to Kenya when he was about five, but went back to the US when he was 17. He enrolled for a marketing course at Morgan University where his father was teaching.
We salute you. Thank you for setting very high standards for us to aspire to.
David Karangu – Augusta, Georgia
Kenyans Among top finishers in Peachtree race.
07/05/08
Kenyans were among top finishers in Peachtree road race in Atlanta Georgia. The annual Fourth of July road race was held on Friday and attracted many Kenyans both from Kenya (Professionals) and from around the US. Ethiopian Terefe Maregu took number one sport in the men's category while Nataliya Berkut of Ukraine was the women's winner in the field of 57, 000, the nation's largest 10k race. A list of the top 25 men's finishers is at the end of this story
The first Peachtree Road Race was on July 4, 1970. A grand total of 150 runners started at the old Sears building at the intersection of Peachtree and Paces Ferry roads in Bulkhead, Atlanta. 110 participants hit the finish line and they made the beginning of this world renowned race. Participants have been coming from all countries. Those that have participated are current and retired Olympians. They form what is called the ELITE runners and run for a compensation. There are, however, many amateurs who run for fun and also to get motivation from the elites.
Among the runners was Monica Njeri Muchene, an 18 year old student of Branau University (Click here to read her profile and testimony), she was among the top finishers in group one category. Monica has a running scholarship in Brenau University and it came about because of her mother, Monica Muchene who is a community activist in Atlanta Georgia.Christine knows that there are very many colleges and universities that are eager to give Kenyans students scholarship just because they are Kenyans.Acccording to Christene, Coaches in these universities are convinced that Kenyans are gifted to run and will be willing to give Kenyans, athletic scholarship any time. Knowing this secret, she helped her daughter to secure a running scholarship and now it has became her passion to encourage other parents to look for this opportunities and at the same time talk to our young boys and girls about this golden opportunity that exist in schools. Read Christine Muchene's story (Running is in our blood here).
George Ondimu the Peachtree hospitality for this year and also
The senior International Co-ordinator, Elite athlete (
www.internationaspeedmanagement.com

) has helped so many students from Kenya according to Mrs Muchene. He is well connected with cross country coaches all over the country. He is a good resource for future runners.
---
For those who wish to join the next Peachtree race in Atlanta next year. Here are the requirements.
TOP-SEEDED RUNNERS:

Runners who have run a 10K race in the following times on a U.S.A. Track and Field (USATF) certified course on a date after March 1, 2007, qualify for top-seeding.
Open Men: Open (under age 40): 36:30 or faster
Masters Men: (40+) 38:00 or faster
Open Women: Open (under age 40): 40:00 or faster
Masters Women: (40+) 41:30 or faster
SUB-SEEDED (Sub 42 minutes):

All runners (male & female, age 10 & older) who have run a 10K race in 41:59 or faster qualify for sub-seeding. This time must have been run on a U.S.A. Track and Field (USATF) certified course anytime after March 1, 2006.
TIME GROUP 1A (42:00 through 49:59):

All runners (male & female, age 10 and older) who have run a 10K race in 42:00 through 49:59 qualify for Time Group 1-A. This time must have been run on a U.S.A. Track and Field (USATF) certified course anytime after March 1, 2006.
TIME GROUP 1B (50:00 through 54:59):

All runners (male & female, age 10 and older) who have run a 10K race in 50:00 through 54:59 qualify for Time Group 1-B. This time must have been run on a U.S.A. Track and Field (USATF) certified course anytime after March 1, 2006.
---
Men's Open Division
Finishers 1-25
Place, First Name, Last Name, City, State, Country, Finish Time Gun, Finish Time Net
1
TEREFE MAREGU 25 ADDIS ABEBA ETH 28:30 28:29

2
PETER KAMAIS 31 KEN 28:34 28:33

3
DANIEL G KIPKOECH 21 KENNESAW KEN 28:38 28:38

4
GIRMA TOLLA 33 ETH 28:43 28:42

5
DMESSEW TSEGA 20 ETH 28:52 28:51

6
LEONARD MUCHERU MAINA 30 KEN 29:04 29:03

7
MACDONARD ONDARA 23 KEN 29:07 29:05

8
BURKA GEBO 21 ETH 29:22 29:21

9
ROBERT LETTING 23 ALBUQUERQUE NM KEN 29:25 29:24

10
JULIUS KIBET KIPTOO 30 KENNESAW KEN 29:40 29:39

11 ANTONIO VEGA 24 SAINT PAUL MN 29:41 29:41
12
SIMON SAWE 34 SANTA FE NM 29:47 29:469(KENYAN running for America)

13
WORKU M BEYI 21 BRONX NY ETH 29:49 29:49

14 JOSH MOEN 26 READLYN IA 29:53 29:53
15
KASIME ADILLO 29 ETH 30:16 30:15

16 GIRMA MECHESO 20 LAWRENCEVILLE GA 30:18 30:16
17
EDWARD KIMOSOP 29 CINCINNATI OH KEN 30:22 30:21

18 JUSTIN YOUNG 28 LOUISVILLE CO 30:26 30:25
19
MESHACK KOSGEI-KIRWA 34 FAYETTEVILLE KEN 30:31 30:30

20 LUKE HUMPHRY 27 ROCHESTER MI 30:40 30:38
21
TAMRAT A KEBEDE 34 LOUISVILLE KY ETH 30:55 30:54

22 JOE M THORNE 24 AUSTIN TX 30:59 30:57
23
BIRHANU WUKAW 35 STONE MOUNTAIN ETH 31:05 31:03

24
BERNARD M ONDIMU 21 MARIETTA KEN 31:09 31:08

25 DAVID MACHERIA YOUT 26 CHESTER PA 31:11 31:10
Purple – Kenyan running for America
Celebrating Kenyan Achievements in the Diaspora By David Karangu
---