RUNNING TO THE AMERICAN DREAM: I was nicknamed "KENYA"
RUNNING TO THE AMERICAN DREAM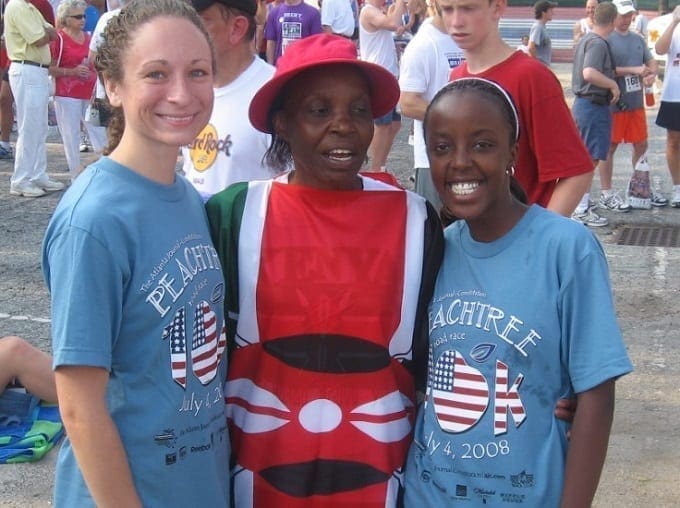 "Monica you can run to Africa and still ask for more," my teammates teased as they nicknamed me, "KENYA."
For a moment I thought, if the Ocean was dry land would I have the stamina of running to Africa like the character "Forest Gump" who ran coast to coast in the movie.
Glory be to God for with
God everything is possible; His miracles immeasurable. When we seek the Kingdom of God, all others shall be added unto us. We just need to believe in Him in whatever we do and He will surely bless not only the works of our hands but also the "works of our legs!" This is how it all began.
July 2001, my mum told us that we were to attend an interview at the American Embassy for visas to come to come to the U.S.A. That day I was excited but I was also nervous; I didn't know what would happen at the interview.
What would they ask me? One month to closing school we attended the interview and with God's grace we were granted the visas. From that day onwards until December 25
th
, 2001, when we left Kenya, my focus would turn to the country that was going to be my new home.
I wanted to know more about America.
I started searching for information from other kids, watching
TV shows like "The Jefferson's, "Sister Sister" and watching movies like "Coming to America".
I have to say this video did not portray the best side of America. G
reat stories about this country kept coming our way and within no time I was sure I wanted to come and chase the American Dream.
Little did I know I would run and run to find the dream.
Two weeks after our arrival, my first experience was a great cultural shock. Knowing I won't be beaten by teachers in school or have to wear uniforms shocked me. This place is different from what I knew, I said to myself. I enrolled in Marietta Middle School Grade 7 and like most people in Africa my biggest problem was the "accents." It took about two semesters before I could completely understand my teachers or communicate without having to repeat myself.
One day my auntie came with a lady who was her friend. She had told her about us and how we had just arrived and lived in an empty apartment. The lady came to our house to offer assistance with stuff like furniture and food and this is when she advised my mum to let us play sports. She said it would help us get
scholarships for college. My parents took the advice and encouraged us to enroll in sports. I'm born in a family of three boys and the only sport we knew was soccer. I didn't think I was as good as my brothers were, so rather than my family's tradition of playing soccer I joined the track team during my eighth grade year. I had not run before other than the PE lessons in Kenya and of course running to school daily. However,
Catherine Ndereba
had broken the women's marathon world record in 2001 and I told myself "She is no different from the lady I see across the mirror." This was all the inspiration I needed. As I put on my running shoes I knew that I too could compete at peak levels with just a little hard work and determination. I was ready to run.
The following year (2003), I joined Wheeler High Track and Field and ran the 2-mile race for the school. I enjoyed the running and also the friends I had made, although they teased me, "Monica why are you not running barefoot." I still continued to do my best. My performance showed promise that my coach approached and advised me to try running Cross Country. This sport demanded a lot of practice hours and commitment. When I told my family they gave me their support and I took on the challenge. I continued to practice hard and every time I set a personal record the next thing I wanted was to break it. This is when my teammates started teasing me saying, "Monica you can run to Africa and still ask for more." They nicknamed me, "KENYA" and this made me realize that I had to do my best to keep the name of my country Kenya in everyone lips.
I had made a wish that the one thing I could do for my parents, for bringing me here was for me to go to school on a scholarship, which would relieve them from worrying about college tuition. For every medal I got I dedicated to my parents. I have won nine medals to date which include Gold, Silver, and Bronze.
Among my other achievements I have been awarded plaques such as; Most Valuable Player of my high school two years in a row, Best Performance and also receiving
seven Varsity Letters which are certificates awarded for the highest achievement in High School Sports
.The
greatest of them all would be when I was elected the cross-country captain in my senior year.
Senior year brought excitement and also stress. Trying to figure out which college to attend is not easy. And especially when you think about how will I pay for it? Will I have to take a part time job? One fine morning, my coach surprised me when he brought me a letter from the Cross Country coach of Brenau University. The letter was asking me to consider joining their Golden Tigers team. I was overjoyed. I told my parents and we scheduled an appointment to see her at Brenau University. We traveled to the school and saw this Great University founded in 1878. My mom and I agreed it was a great school, but we also learnt that Brenau University is a Private womens' college with a shocking tuition and board of $29,000 a year. I knew my parents could not afford to pay this no matter how much I would have liked to be a Golden Tiger.
When there is a prophecy it has to come to be.
The coach had seen me run and had no doubt in her mind that she wanted me to join her team. She told me that she was ready to work with me and would organize for me to get a
full ride scholarship
. This was clearly beyond my imagination and belief.
Could the words of a woman advising my parents to let us play sports which would help us get scholarships finally be realized?
I requested my family and friends to join me in prayers. I believed this would be the biggest miracle upon me and my family in this country. It would be my ladder for achieving the American Dream. I was ready to go for it and believed God was in it. We waited patiently with faith believing God would intervene. Finally the offer came and I was all tears as I read the Email to my parents. It read:
"Dear Monica we are delighted to offer you admissions to Brenau University…… It is my pleasure to present to you a full ride scholarship to our school."
Now all that was left was for me to sign and my parents to endorse the contract with Brenau University. The last day of school came with a big surprise. I was called to the conference room where I met a beaming coach McIntyre from Brenau University with papers in her hand that
gave me a
full scholarship for $29,750 including books. My principal
and my two coaches Mr. Townsend and Mrs.Finlan were there too, to witness this great gift from God. It was all, "Congratulations Monica, We are proud of you." I was all smiles and proud of what I had accomplished, I thanked my coaches for helping me through this journey and coach McIntyre for believing in me and giving me a spot in her team. I did other academic paperwork on June 22
nd
2007: and as of now am waiting to join Brenau Tigers on August 15
th
, 2007 for my Bachelors in Science in Nursing.
Many of my friends have been asking me how I did it. All I can say is that it is not something you master within a few days. For me it has taken me 4 years training and hard work to be where I am. I run 5 miles, 6 days in a week come sun, rain, snow or hail. I eat properly. The most important of all is that I allowed myself to be mentored. Running does not only involve the runner, it also involves the coaches and also the parents of a runner. Each and everyone play a vital role. My advice to young Kenyans who want to try it with their legs like I did is to start running. For those who would aspire to go to college on a scholarship this is an opportunity to explore. I believe running is in our DNA as Kenyans, so why waste the opportunity? For me it all started as a sport to make friends in this new country but it has grown to a passion. I truly believe and have faith that my day is coming when I will win the Boston Marathon.
And hey, those who are not runners there are so many other sports. Is clicking the TV remote one of them? How we wish it was.
I now believe that this country has a lot of money for sportsmen and sportswomen and all we have to do is choose a sport and work hard to achieve excellence.
And even when you achieve you have to work even harder to keep it. In Brenau I will have to work even harder
My special thanks go to the two most favorite people in the world my parents, "You made it possible for me to practice even when schools were closed." Special thanks to my dad, "You could not take a Saturday job because you had to attend my Saturday meets." To my mum, "Thanks for always encouraging me even when I did not believe in myself and having great faith that all shall be well." Many thanks also to my brothers: Chege, Kiarie, and Evans, "You continued telling me that I could do it even when sometimes it became too hard." Special thanks to my coaches, Mr. Townsend and Mrs.Finlan "You guided me and believed in me. Thank you for helping me find my destiny, thank you for mentoring me towards this sport that I love. The many hours you spent away from your families training me will always be cherished in the memories." All this people are indeed my heroes! I also wish to thank all my friends who understood when I told them that I could not be available Saturdays for parties or games. For those who came to encourage me in the field during my meets, and those whom I told about the scholarship and they prayed with me, I thank you all.
With God everything is possible and His miracles are immeasurable. May God bless you all. I pray my years as a
Golden Tiger in
Brenau University
are blessed.
Monica Njeri Muchene
Golden Tigers, Brenau University
Gainesville, Georgia, U.S.A.
RUNNING TO THE AMERICAN DREAM: I was nicknamed "KENYA"
MORE BREAKING NEWS

–

CLICK HERE
FRONT PAGE HEADLINE NEWS

–

CLICK HERE