UHURU KENYATTA SHINES IN HIS FIRST BUDGET SPEECH
UHURU KENYATTA SHINES IN HIS FIRST BUDGET SPEECH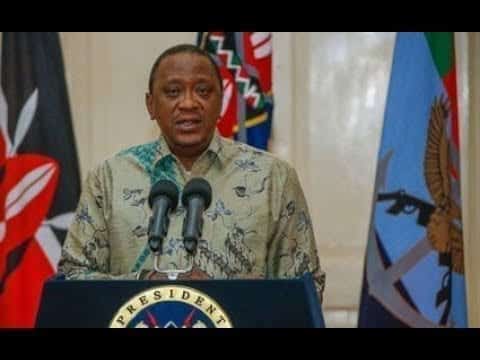 By Diasporamessenger
On his first Budget speech as a finance Minister, Uhuru Kenyatta won the hearts of colleagues in the House and occupants of the public gallery. As soon as he concluded his one-hour fiscal ritual, the House erupted in prolonged, thunderous foot thumping and fellow ministers and MPs rushed to congratulate him.
President Kibaki was so impressed that he stopped by on his way out of the Chamber to shake hands with the star finance minister. It is reported that MPs mobbed Uhuru like footballers do to a colleague who had scored a last-minute winner. The scene was exhilarating and Uhuru was evidently savoring his moment. Read more
---
Ruto dismisses re-negotiations
Cracks in the Orange Democratic Movement-ODM- party continue to emerge with Deputy Party Leader William Ruto distancing himself from calls by the party top brass for the renegotiation of the National Accord.
The Agriculture Minister says it is high time for politicians to work instead of focusing on their selfish ambitions.
Speaking in Kimilili, the Eldoret North legislator denied allegations that he had entered into a political alliance with the Central Kenya faction of Party of National Unity-PNU- to strategize for the 2012 general elections.
Ruto said he was committed to uniting with other leaders irrespective of their ethnic background to promote peace and development in the country.
Elsewhere, Budalangi MP Ababu Namwamba echoed Ruto's position, dismissing demands for the renegotiation of the National Accord as selfish.
Last week, ODM called for the renegotiation of the national accord on grounds that they had been short changed by coalition partner PNU.
At the same time, Public Works minister Chris Obure says the public is slowly losing confidence in the inclusive government due to the constant bickering among coalition leaders and urged president Mwai Kibaki and Premier Raila Odinga to put a stop to the trend and ensure the cardinal principal of collective responsibility is adhered to.
"Disgruntled ministers should use the occasional cabinet meetings as avenues to ventilate their ideas and concerns instead of tearing into each other in public forums", said Obure.
Obure said politicians in both PNU and ODM camps with dreams and ambitions linked to the 2012 general election were intent on pushing the government "off reel" for selfish interests.
Speaking in Malindi, the Public Works minister said the grand coalition government will not abandon in delivering on its cardinal pledges to Wananchi despite the constant political storms assailing it.
The minister said the two principals should ensure that economic empowerment, job creation, health provision, basic institutional reforms and secure environment for people to go about their businesses are prioritized in line with the National Accord to restore the waning confidence of Kenyans.
Kenyan Lady racing to the top in the UK Politics
A Kenyan lady in London and a Local Councillor is set to become the first ever African female Member of Parliament. Cllr Marianne Alapini was recently selected to contest for the seat of Woking constituency on a Labour Party ticket. She is the only black councillor in the Royal Borough of Kensington and Chelsea – a borough dominated by the Conservative Party.

Cllr Marianne Alapini is a familiar face to many Africans in the UK. She has attended and supported many community activities of Africans in the UK. She is also on the frontline of vital campaigns that make a positive difference in the lives of people from diverse cultural groups. She is not a stranger to challenges, she fought hard to win and represent the electorate in the Borough of Kensington and Chelsea as their councilor.

But how important is the Royal Borough of Kensington and Chelsea? It is the home to the world famous Kensington Palace recently the official residence of the late Princess Diana. It is also the home of Queen Ann and birth place of Queen Ann and Queen Victoria. The Borough of Royal Kensington and Chelsea is also the home to several world famous museums including; The Science Museum, Natural History museum, Victoria and Albert museums in London.
Marianne was born in Kenya in a family of four, grew up in Nairobi in 1980's and was educated in Nairobi Primary School and Loreto Convent Secondary School in Lavington Green.

She holds a degree MBA degree in Inclusion & Diversity Studies. She is currently is undertaking a PhD on inclusion Strategy for the Disadvantaged & Marginalised within the NHS. She is a mother of a teenage daughter, named Athena.
Her political career commenced after she witnessed the unfair closure of her local community nursery school. The nursery provided affordable childcare but it was to be sold and privatized thereby, changing hands as well as costs.

Marianne says that after the privatization, the nursery was to charge three thousand pounds per term which was way beyond the reach of many parents. She campaigned vigorously to stop the closure but even after galvanizing the residents to support her campaign, she still lost. It was at that moment when she realized how hard it was to influence important decision when one was just a resident in the borough. She decided to contest in the local government election as a councilor and if she won, she would then be in a better place to positively influence crucial decisions that affect people's lives.

After strong campaigning in 2002, she won and became the councilor for Royal Borough of Kensington and Chelsea on Labour party ticket. Despite the war on Iraq that tainted the image of the party and made it less popular than it was before, she still got re-elected in 2006. Marianne attributes her victory to hard work. She claims that she was motivated to leadership by her mum who kept reminding her that she had live a 'worthwhile life'.
She says that her mum sensitized her to the needs of others. She would occasionally ask her in the presence of her brothers and sisters, 'What have you done today to make a positive difference to someone else?' Marianne says it was that challenge that propelled her and her siblings into greater service to the communities they live in.

Her sister Lillian Kitusa serves as priest in the UK and her brother Fredrick Kilonzo is a pastor in Nairobi. Her role models are Martin Luther King, Nelson Mandela and as for Baraka Obama, she says, 'he has proved to many Africans that you can rise past the clouds and touch the stars'. Marianne hopes all Africans will vote for her and if she gets enough support, she will become the first African Black Lady in the UK Parliament. As for the issues that matter to Africans, they will get a voice in the big House.
Marianne has been keen on volunteer work and business and this led to her winning of different awards in recognition of her contribution to community. She is a 2-time winner of the national award 'I' am a Councillor, Get Me Out Of Here!' in 2005 & 2006. This competition is focused on get young people interested in Politics during National Democracy week. Since she won the title Marianne has taken up the responsibility as a 'Youth Champion' has engaged herself seriously in working with Youth Forums, Youth Clubs and Schools, mentoring young Labour members.
Besides her work as a councilor, Marianne is a member of United Nations Development Fund for women – a charity that advocates for and support women from developing countries to strengthen their economic security. She is also a Member of the European Federation of Black Women business Owners and Britain's Ethnic Minority Business Federation. She is also working with Humanitarian Coalition Aid Foundation (HCAF) to promote the benefits that can be derived from unique enhanced Nutritional Intervention (eNI) programme and European Coalition of Positive People's holistic and support programme for HIV/Aids patients, their families and the community.
---
UHURU KENYATTA SHINES IN HIS FIRST BUDGET SPEECH
MORE BREAKING NEWS

–

CLICK HERE
FRONT PAGE HEADLINE NEWS

–

CLICK HERE