Kenyans living Abroad To Vote In The Next Election
Kenyans living Abroad To Vote In The Next Election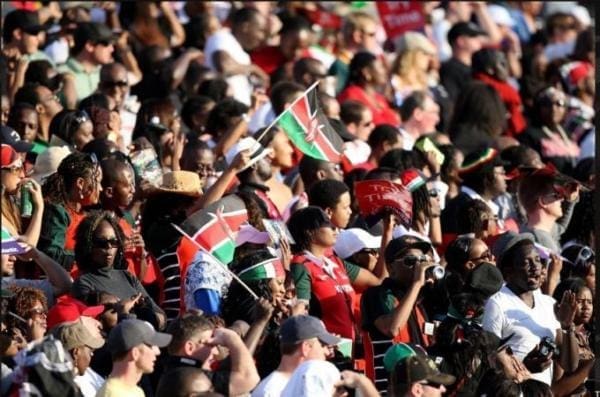 Kenyans abroad will be able to vote from their host countries in the next
election, Vice President Kalonzo Musyoka has promised.
Speaking to Kenyans in Berlin Germany where he is attending the International Berlin Prayer Breakfast, Musyoka said as part of the envisaged electoral reforms, Kenya will join other countries in the community of nations, whose laws allow their citizens resident abroad to vote while away.
The VP also informed the Kenyans that the Ministry of Finance and the Central Bank were working out the modalities of facilitating cheaper money transfer from Kenyans overseas to Kenya.
This was after they complained that it was too costly to send money through the existing services such as the Western Union and MoneyGram.
'We are concerned that due to the financial crisis hitting the world, remittances from Kenyans in the Diaspora has fallen from a high of 70billion shilling to only Ksh 40 billion at present. As to voting rights we will ensure that your right to vote abroad and for that vote to be counted, is part of the new electoral laws ' He said.
Musyoka said the Grand Coalition Government and Kenyans are determined to put the country on the right path.
"We are determined to build a strong and united country. The healing and reconciliation process is under way, we will attain a new constitution and by devolving development money to the constituency, the Government is seeking to create jobs, accelerate growth and stop rural to urban migration" he added
The Kenyans in Germany under the leadership of Chris Bwire, expressed strong concerns over the new phenomenon, where foreigners were being allowed to buy properties and land in Kenya's major town.
The MP for Budalangi, Ababu Namwamba, who is among MPs accompanying the VP assured the Kenyans in the diaspora that there was consensus on to provide for dual citizenship in the new constitution.
Namwamba who is also the Vice Chairman of the Parliamentary Select Committee on Constitutional Review, said Kenya will get a new constitution soon.
"Kenyans from any part of the country have learned the futility of trying to move alone, that is way I am sure we will arrive at a new constitutional dispensation sooner than later" he said.
---
Kenyan nurse charged with wife's murder in Namibia
A year after his arrest for allegedly murdering his wife and dismembering her body in Namibia last year, Kenyan nurse Kenneth Orina appeared in the dock in the High Court in Windhoek for the first time on Thursday.
Neatly dressed in a blue-grey suit, matching blue shirt and tie, with a golden tie clip as a finishing touch, Orina (35) made a first pre-trial appearance before Acting Judge Johan Swanepoel in the court where he is set to stand trial on two charges in connection with the death of his wife at Grootfontein in mid-September last year.
Orina is accused of murdering his wife, Rose Chepkemoi Kiplangat (33), in their flat at the Grootfontein State Hospital Nurses' Home during the period of September 14 to 17 last year.
Orina was employed as a nurse at Grootfontein State Hospital at the time.
The State alleges that Orina killed his wife by stabbing her in the chest or slitting her throat with a knife or other object and then cutting his wife's remains into ten pieces, which he dumped at various places at Grootfontein.
Before he dumped the body parts, Orina inserted panties into his wife's private parts and stuffed a facecloth into her torso, it is also charged in the indictment, in which the allegations are made public for the first time.
Orina was represented by lawyer Linus Mokhatu of Metcalfe Legal Practitioners, who asked the court for time to study the docket and prepare a pre-trial indication of Orina's response to the charges.
Orina's case was postponed to January 22 for that purpose.
Mokhatu also told the court that Orina was asking the court to intervene so that the prison authorities in Windhoek would allow him to contact his family by telephone in Kenya.
Mokhatu said after being transferred from Oluno Prison to Windhoek Central Prison at the beginning of this week, the Windhoek prison authorities have not allowed Orina to phone his family in Kenya.
"Orina needs to be in contact with his family because they are paying for his legal representation in Namibia," Mokhatu said.
With his case postponed to early in 2009, Orina remains in Police custody in the meantime.
Orina was arrested on October 30 last year.
His arrest took place five weeks after the last body parts that were subsequently determined as being the remains of Kiplangat were discovered where they had been dumped in black plastic refuse bags on the southwestern edge of Grootfontein.
Orina admitted killing his wife, but claimed it had been an accident that happened while he and she were wrestling for the control of a knife during a fight in their flat.
---
Kenyan man shot dead in
Southern Sudan
Saturday 11 October 2008 06:10.
October 10, 2008 (RUMBEK) – Unknown gunman in Rumbek, the capital of Lakes state, on Thursday killed a Kenyan man who had been resident in Rumbek for almost one year.
He was shot dead at around 11:10 p.m. in Rumbek near a bar in the residential area of Canal hotel, which hosts different foreigners for the weekend.
A Lakes state policeman described that
Samuel Gachau
was shot dead in the head by an unknown gunman while walking home with his girlfriend after some slight clashes between him and people in a bar.
One girl was reportedly raped at the same place where
Gachau
was shot. The raped girl detailed that she "was raped by a group of men in military uniform and the rest were in non-uniform," but she also added that she will not be able to identify who raped her because it was night and she also escaped at the same time as she witnessed the death of friendly Samuel Gachau.
Last week, Lakes state ministries of health launched a campaign to close down all local private clinics belonging to foreigners in Lakes state.
Source-Sudan Tribune
Kenyans living Abroad To Vote In The Next Election