The World's Richest Men Target Kenya with Investment Billions
The World's Richest Men Target Kenya with Investment Billions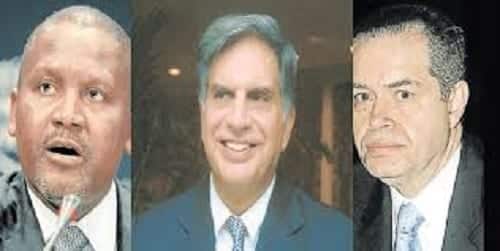 Five of the world's richest men have pumped billions of shillings into the Kenyan economy in the last five years, confirming Nairobi's position as East Africa's investment hub.
Nigeria's Aliko Dangote, India's Mukesh Ambani, Ratan Tata and the Sanghi brothers and Egypt's Mansour brothers top the list of the world's tycoons and rich families whose companies have recently put billions of shillings in new investments or expansion of established businesses.
Much of the investments in key sectors of the economy — including manufacturing, automotive, energy, property and mining — have been made in the past three years of global economic turbulence, confirming the billionaires' faith in Kenya's resilience.
Investment analysts said Kenya's key attraction lies in the promise of a large and growing consumer goods market of 130 million people that has come out of East Africa's integration project.
"These billionaires and their companies are moving into Africa's frontier markets in search of growth opportunities and are seeing Kenya as a gateway to the continent's consumer market," said Sammy Onyango, the chief executive of advisory firm Deloitte East Africa.
Mr Onyango said Kenya's growing middle class, a relatively skilled workforce and ongoing movement towards better governance under the new Constitution are key factors driving foreign investor confidence in the country.
Tata Group, chaired by Indian billionaire Ratan Tata, has lined up big ticket investments, targeting some of the most lucrative and capital-intensive segments of Kenya's economy.
Mr Tata's net worth is estimated at $1 billion (Sh100 billion) – a figure thought to be grossly understated by the fact that most of his wealth – about 65.8 per cent — is in the form of shares held in charitable trusts.
Mr Tata's final months in office are expected to be marked by an aggressive investment in African frontier markets, including Kenya.
Pump billions
Tata operates locally as Tata Africa and is scouting for investment opportunities in pharmaceuticals, ICT, steel, construction, energy, tourism and mining where it is preparing to pump billions of shillings in the medium term.
"Tata Group has the financial capability to invest in a wide range of sectors so long as they present good business opportunities," said Naresh Leekha, the executive director of Tata Africa.
The firm has in the past four years invested $100 million (Sh10 billion) to set up a second plant at Magadi Soda – the soda ash mining company it acquired in 2006.
It is also a major player in the motor vehicle market where it is competing in public transport, construction and commercial segments of the market with its Tata brand.
Early this year, Tata announced plans to either buy a stake in one of the local motor assembly plants or establish its own assembly for pick-ups and light commercial trucks at a cost of up to Sh2 billion.
Energy sector
Tata Chemicals is also eyeing the regional market with its wide range of products mainly targeted at manufacturers of detergents and leather products while Tata Consultancy Services has positioned itself to do big ICT business under the e-government programme.
The Indian conglomerate is also scouting for opportunities in the energy sector where its subsidiary, Tata Power, plans to invest billions of shillings in hydro and geothermal power to supply its Magadi Soda plants and sell the excess to Kenya Power.
Mr Leekha has also announced that Tata Steel – the world's seventh-largest steel company – will soon start supplying local companies with raw materials such as iron.
Besides, Mr Leekha said the firm was deepening its presence in the construction sector through the supply of mixers, lifters and concrete pumps.
"We want to have a large footprint in East Africa which to us represents enormous potential and is the next growth market," he said.
Kenya's promise as an investment destination has also caught the attention of Egypt's Mansour brothers who have made public their interest in the local motor vehicles market.
Kenya's second largest auto dealer, General Motors East Africa (GMEA), is expected to give its distributorship deal to the Mansour Group, after terminating its current distribution arrangements with seven local firms.
The Egyptian company will be supported by a chain of sub-dealers.
Motor industry insiders said the deal could give the Mansour brothers a greater presence in Africa's motor vehicle and construction market where it already has distributorship rights for big brands such as Caterpillar.
The firm has exclusive rights for the brand in six African countries including Kenya, Uganda and Tanzania.
Mansour Group is the largest independent distributor of GM cars in the world. Last year, it sold more than 94,000 cars and trucks in Egypt, Iraq and Libya.
Third richest
The company which is run by three brothers — Mohamed, Youssef and Yasseen — has vast interests in real estate, banking and retail markets including McDonald's.
The three have been listed among Africa's 11 wealthiest individuals with a combined net worth of $5.6 billion (Sh560 billion) or half of Kenya's annual national Budget.
India's third richest man and the world's ninth, Mukesh Ambani, has also seen business opportunities in the Kenya and has moved to seize them with billions of shillings in real estate investments in the capital.
Mr Ambani, through Delta Corporation East Africa — a local subsidiary of his Indian conglomerate Reliance Industries — is building multi-million shilling office towers in Nairobi's Upper Hill and Westlands areas as well as an estate in Athi River.
Last month, the 53-year old tycoon hit newspaper headlines after he reportedly earned Sh2.5 billion from two property deals in Nairobi – one of them sold to the local World Bank office.
Kenya's property market has recorded a decade-long rally in rental fees and selling prices driven by a supply shortage against rising demand from a rapidly growing population and incomes.
Wealthy investors like Mr Ambani are particularly benefitting from their ability to undertake big projects for sale to large institutional buyers such as multinationals and state-sponsored organisations.
Forbes magazine estimates Mr Ambani's fortune at $29 billion, making him the ninth richest person in the world.
The Kenyan promise has also caught the attention of Aliko Dangote, the Nigerian who is the world's richest person of African origin.
Mr Dangote is building one of Africa's largest cement factories in neighbouring Tanzania and has made known his intention to sell up to 30 per cent of its output in Kenya.
The 5.5-million-tonnes-a-year factory has announced plans to use its low-cost production model to gain a pricing advantage in Kenya's competitive cement market.
Tanzania has large deposits of limestone — a key raw material — and natural gas which can be used to power the cement factory at much lower costs than Kenyan producers who rely on fuel oils and coal.
Mr Dangote is a self-made businessman who started trading in commodities in the late 1970s before expanding to other areas such as freight and cement.
His company has a presence in nine African countries including Benin, Cameroon, Ghana, South Africa and Zambia.
Mr Dangote was listed as the world's richest person of African descent for the first time in March following a successful listing of Dangote Cement which integrated his investments across Africa with his previously public-held Benue Cement. Listed Dangote Cement now accounts for a quarter of the Nigeria Stock Exchange's capitalisation.
The Sanghi brothers, Prakash, Sudhir, Ravi, and Girish, who own the $2 billion Indian conglomerate Sanghi Group have also entered Kenya's cement market with a multi-million shilling investment in a plant in Pokot.
Work on the plant expected to produce 1.2 million tonnes of cement annually started last year and has so far consumed more than Sh500 million.
FDI inflows to Kenya helped create an estimated 13,000 new jobs in the past two years.
East Africa is becoming increasingly important as the common market takes shape following its kick off in July 2010, opening the way for the free movement of factors of production in a market of 130 million persons.
The creation of a single economic bloc is coinciding with rapid economic growth in the region and the finding of oil and gas deposits, a move that is expected to pull in more big ticket investments.
Source- businessdailyafrica.com