Donald Trump congratulates Uhuru Kenyatta on poll win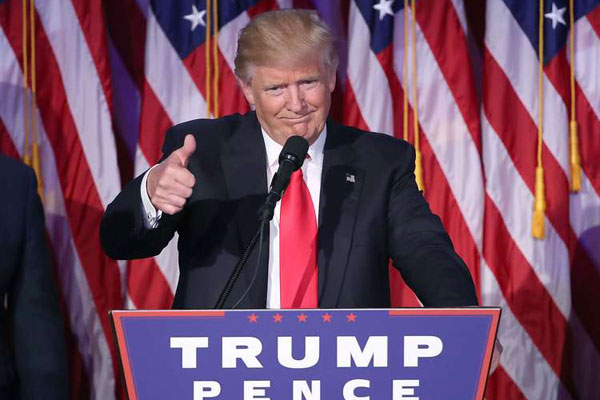 The US has termed Kenyan poll as fair and transparent— further cementing international and local observers' affirmation that President Kenyatta's win was through a credible process.
Mr Kenyatta's main challenger Raila Odinga has rejected the outcome and is Tuesday expected to tell his supporters of the way forward of what he said was a "fake, sham and stolen" election.
PEACE
In a statement by the White House Press Secretary, the US called on Kenyans to maintain peace and resolve disputes through courts.
"The United States congratulates the people of Kenya on the successful conclusion of elections, and President Uhuru Kenyatta on his re-election," the statement dated August 14 said.
"We commend the dedication of candidates, officials, and the public to upholding a peaceful, fair, and transparent contest, and we welcome the statements by international and domestic observer missions affirming the credibility of the election."
The statement comes after former US Secretary of State John Kerry, who co-led the Carter Observer Mission in Kenya, argued that they expected victors and losers to work within the rule of law and the legitimate dispute resolution mechanisms.
KERRY
"The IEBC has put in place and has thus far followed a detailed process of paper ballot counting and security which, if followed through to the final steps, can give every Kenyan confidence that their vote was properly recorded and therefore this election can appropriately certify the outcome," Mr Kerry, who was one state away from being elected US President in 2004, said in a statement.
He went on: "IEBC officials and agents were in agreement in most steps; opening and sealing of ballot boxes, what constituted a valid ballot and signing off final tallies of forms 34A by agents," Mr Kerry said.
The other missions that gave thumbs-up to the Independent Electoral and Boundaries Commission (IEBC) are the former South African President Thabo Mbeki-led African Union mission, former Ghanian President John Dramani Mahama-led Commonwealth Mission and the Elections Observer Group Kenya, among others.
RAILA
Apart from rubbishing the elections as a sham, the Mr Odinga-led National Super Alliance (Nasa) has also discredited the observers, saying they should have been vetted before leading the Kenyan missions.
"The missions should vet observers to determine if they have relationships with the actors in the political contest. Some of them have interests that serve those in government," said Mr Odinga's alternate chief agent and Siaya Senator James Orengo on August 11 when the team stormed out of Bomas before the elections results were declared.
"Some of them just have big names but have nothing to offer on matters of observing the elections," said Mr Orengo.
"They can do what they want to do or say whatever they want but they should not tell us to go to court because it is not our option."
COURTS
In the August 14 statement, the US called on losers and those aggrieved to go to court for resolution of any elections dispute.
"We are troubled by reports that some demonstrations have turned violent, and call on all Kenyans to reject violence and resolve disputes in accordance with the Kenyan Constitution and the rule of law.  We welcome calls by President Kenyatta for peace and national unity," the US said.
The Donald Trump administration, in the statement, also re-affirmed its commitment to strengthen its ties with Kenya, after the elections.
TIES
"This historic election is an important step forward, and we urge all Kenyans to unite in peace to continue building their country," the statement circulated by the US Embassy in Nairobi said.
"The United States will continue to partner with Kenya to secure a prosperous and peaceful future for both of our great nations,"
With 8,203,290 votes (54.27 per cent) and having attained at least 25 per cent of the vote in 35 counties, President Kenyatta was declared validly elected to serve for a second five-year-term.
Mr Odinga polled 6,762, 224 (44.74) and had attained at least 25 per cent of the vote in at least 29 counties..
Source Link-nation.co.ke