Kibaki directs AG to form team to study ICC ruling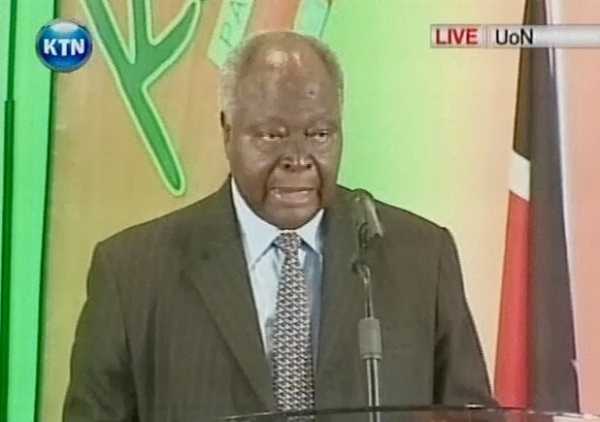 President Mwai Kibaki has appealed to Kenyans to remain calm and peaceful at all times.
Speaking Monday at Harambee House after the release of the decision of the International Criminal Court that the cases of four out of the six Kenyans will proceed for trial, President Kibaki directed the Attorney-General to constitute a legal team to study the ruling and advise on the way forward immediately.
The Head of State, once again, underscored his personal commitment to bequeath present and future generations a secure, united, prosperous and peaceful country.
"Our great nation has had its share of challenging times.  On these occasions, we have re-examined our national conscience and moved forward together. We continue to do so," President Kibaki said.
President Kibaki, at the same time, reiterated that he had already directed all relevant Government ministries to fast track the resettlement of the remaining Internally Displaced Persons.
Said the President: "We re-dedicate ourselves to assist those who were displaced from their homes."
"Today, we once again search our national conscience, re-dedicate ourselves to a true sense of national reconciliation and forgiveness. Let us move our country forward," the Head of State added.
The President further pointed out that while the ICC process was underway, Kenya enacted a new Constitution, substantially enhanced the capacity of the criminal justice system and made great strides in the reform within the system in the administration of justice.
Noting that Kenya now has a radically transformed judiciary, an independent office of the Director of Public Prosecutions, a police service that is being fundamentally reformed and a functional witness protection agency, President Kibaki said it is the collective responsibility of all these institutions to ensure justice for all at all times.
Later, President Kibaki traveled to Kampala, Uganda for an official visit.
During the visit, President Kibaki will grace the 62nd graduation ceremony of Makerere University where he will receive an honorary Doctor of Laws degree.
The Head of State will also attend and address the 5thsession of the 2nd East African Legislative Assembly (EALA).
The plane carrying the President and his entourage departed Jomo Kenyatta International Airport shortly after 4.00 p.m.
Source- http://www.kbc.co.ke/news.asp?nid=74585
Kibaki directs AG to form team to study ICC ruling