Ex-NBA Star Yao Ming in Kenya for Poaching Awareness
Ex-NBA Star Yao Ming in Kenya for Poaching Awareness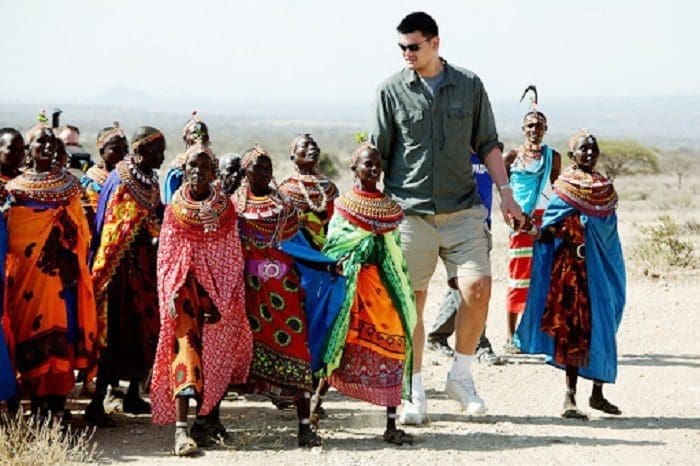 One of China's most visible stars wants his countrymen to know that their rising appetite for ivory is resulting in dead elephants across Africa.
The former NBA star Yao Ming on Thursday ended a weeklong trip to Kenya where he mingled among elephants and walked with indigenous tribes. The trip is part of an effort to let China's increasingly affluent middle class know that its interest in small ivory trinkets results in the deaths of 6-ton beasts.
"I think we need to increase the public awareness of what ivory is made of," Yao said. "The elephants, including rhinos, their numbers are decreasing."
Images of Yao in Kenya's Samburu National Reserve included the towering former Houston Rockets center walking among colorfully dressed Kenyan tribeswomen and riding in a safari vehicle through a field full of elephants. But one of the starkest images was of Yao bending down to look at the carcass of an elephant whose face was carved away by poachers seeking the beast's valuable ivory tusks.
Labeling the question too sad to answer, Yao demurred when asked about his feelings on seeing the dead elephant, a withered, faceless corpse, though he said he saw "evil" in the killing.
Julius K. Kipng'etich, the director of the Kenya Wildlife Service, gave Yao a tour of a KWS room filled with hundreds of elephant tusks. Kip, as the director is known, said he hopes Ming takes back the message to China to say that when Chinese people buy ivory, they are helping lead elephants to extinction.
"It's time to say no, because only elephants should wear ivory," Kip said. "Africa has only 400,000 elephants. That's it. If we kill all of those. It's finished."
The world's elephant population plummeted in the 1980s as poaching became endemic. An international ban on the ivory trade in 1989 helped save the species, but conservationists have been warning the last couple years that the poaching of elephants and rhinos is expanding at an alarming rate — fueled by demand from Asia.
More Chinese are now working in Africa to build roads and pump out oil and minerals, and conservationists say poaching often increases where those workers are located.
"This new surge of poaching that we experienced intensely last year and in the first part of this year is rife across Africa," said Iain Douglas-Hamilton, the founder of Save The Elephants, who traveled with Yao this week. "It is now time for individuals and governments to reduce demand for ivory."
Douglas-Hamilton recounted how he and his wife traveled to China two years ago to see the last of China's elephants. He said the locals there treated the elephants reverently. "If the Chinese people felt about African elephants the same way they feel about their elephants," he said, Africa's poaching problem would end quickly.
Yao worked previously with the conservation group WildAid to help raise awareness about shark fin soup, a delicacy in China that is leading to the deaths of countless sharks.
Hanging over the news conference was the idea that the Chinese people are responsible for so many animal deaths, though Yao and the wildlife experts he traveled with underscored that the issue was one of education: If the affluent Chinese buying animal products only knew the animal suffering their buying habits were causing, the demand would soon drop.
A feature film aimed at increasing awareness called "The End of the Wild" is being made out of Yao's trip, and Yao pointed out that China's government has punished many people for participating in the ivory trade.
Yao called his time in Kenya — his first trip to Africa — "wonderful."
"Living in a wild place is not as comfortable as a hotel room or a home, but it's a totally different experience," said the towering athlete. "My best moments here was at 6 a.m. with the sunrise and the wild animals."
Source:abcnews.go
Ex-NBA Star Yao Ming in Kenya for Poaching Awareness