Video: Controversial self-proclaimed Bishop Gilbert Deya in trouble again
Video: Controversial self-proclaimed Bishop Gilbert Deya in trouble again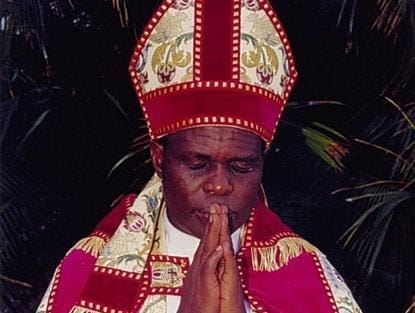 Ofcom has revoked the licence of Praise TV, the religious channel linked to controversial self-proclaimed bishop Gilbert Deya.
Praise TV is broadcast under a licence issued to Destiny Broadcasting Network Europe by the media regulator.
The channel features pastor Gilbert Deya, a self-styled evangelical bishop from Peckham, south London, who claimed to deliver "miracle babies" to infertile women and has faced accusations of child abduction.
After battling against extradition back to his home country of Kenya for several years, Deya lost his legal battle against deportation in September 2011.
Praise TV has in the past aired controversial content, such as promising to cure viewers with serious illnesses by prayer if they offer a donation, however Ofcom has not previously sanctioned the channel.
The TV regulator launched an investigation into the channel after becoming concerned that the licensee was not in fact "the person with general control over which programmes are comprised in the service".
During the course of its investigation, statements made by Destiny Broadcasting "failed to satisfy" Ofcom that it was the one making decisions about which programmes and content would air on Praise TV.
The regulator also said that Destiny Broadcasting provided information that was "false in a material particular or withheld any material information with the intention of causing Ofcom to be misled".
As a result, Ofcom has revoked Destiny Broadcasting's licence to broadcast, as of 15 August.
Source:guardian.co.uk
"I am not a Kenyan" -Bishop Deya
Video: Controversial self-proclaimed Bishop Gilbert Deya in trouble again