Kenyan mother and daughter meet after 20 years of separation
Kenyan mother and daughter meet after 20 years of separation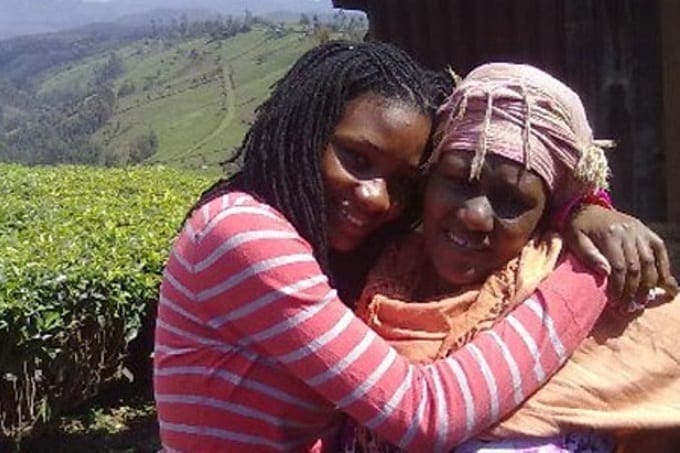 She was only five years old when her father took her to Mozambique, and until her homecoming last week, she had not seen her mother in 20 years.
So it was all joy and tears as the family in Murang'a was reunited with one of the siblings who "got lost".
Ms Laurinda Wambui Sikota's grandmother, Mama Ruth Wambui, 72, terms the re-union a miracle. And so do the other relatives in Kinyona village of Kigumo.
Ms Sikota, 25 and her sister Zoya Simau, 29, were both taken away by their Mozambican father after their mother, Ms Lucy Waithira, and their father separated.
At the time, the family was living in Kawangware in Nairobi. Ms Wathira was teaching tailoring while her husband, Mr Ignus Simao Sikota, was a teacher at a nearby school.
Half brother
On Sunday, Ms Wambui who is named after her grandmother, spoke to the Nation in the grandmother's wooden house. Her eyes were filled with tears, as were her half-brother Anthony Kamau's and aunt Margaret Nyambura's.
"It is great to be home after all those years," she said.
It all began one weekend 20 years ago when the two girls, who often went out on weekends with their father, were picked up as usual.
"Despite the separation, our dad would take us out and there was nothing unusual that day," said Ms Wambui who is fluent in English, Portuguese and Spanish.
What the five and nine-year-olds didn't know was that their father planned to take them away to his native land without anybody else's knowledge.
Ms Wambui said she only realised something was amiss after they went to Tanzania and stayed for a month without going back home despite constant pleas by her sister Zoya.
"Dad would say we would go back home one day. I'm happy the day has finally come despite the many years," she joked.
She said their father took them to Pemba and they later flew to Maputo, the capital of Mozambique, where they enrolled in school while their father secured a well-paying job.
Back home in Kenya, the rest of the family, including Mr Kamau who was then 13, and their mother, were thrown into panic as they tried desperately to look for the two girls.
"We even reported to the police about their disappearance, but no action was taken. Later we knew their dad had taken them away," he said.
Ms Wambui says they forgave their father for what happened. He has since died.
"We lived a good life, went to school," she said.
Unfortunately, her father lost his job and was jailed in 1998, throwing their lives into disarray.
A neighbour she identified as Fatma took them in and educated them, even as they clamoured to go back home.
Ms Wambui was later to graduate with a degree in psychology and later had a son who is now four.
"We were not updated about our family in Kenya and we thought our mother had died," she said.
But a breakthrough came in 2006 through a Mozambican man she met, whose uncle was married to a Kenyan.
"I shared my life story with him after a church service and he introduced me to his uncle, whose wife happened to be a close friend of mum," she said.
It was at that time that she wrote letters to her family and sent them pictures and they recognised her.
Ms Wambui also got in touch with her half-brother on Facebook and posted pictures of herself and her sister Zoya when they were small.
"I finally knew our family was alive and well and the joy of the impending re-union was unexplainable," she said.
Source: Daily Nation
Kenyan mother and daughter meet after 20 years of separation