Kenya's Top 15 Most Bankable Celebrities! (These Guys Are Like Gold)
Kenya's Top 15 Most Bankable Celebrities! (These Guys Are Like Gold)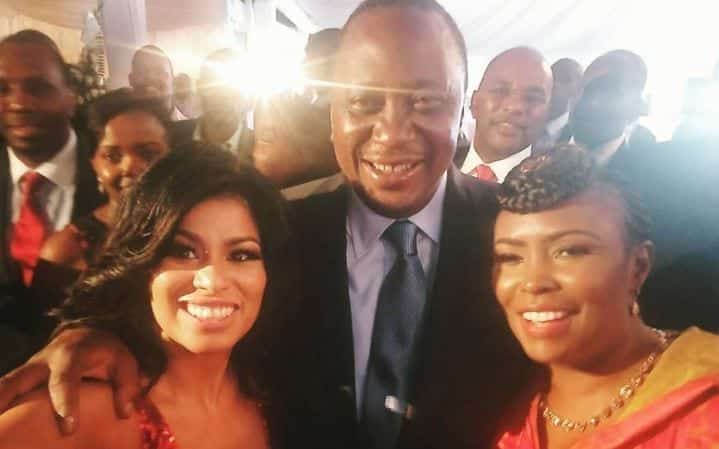 A list of top "who is who" in the entertainment world in Kenya.
#15. Bonoko
Laugh if you will but if you want to get to Nairobi's urban grassroot populace, you have to get Bonoko-deh on your team. This radio personality has a story that reads like a fairy tale -he wrote the book on "from ashy to classy" and anyone would be enthralled by it. From street urchin to radio personality. From mutura guy to online celebrity to affecting the rate at which sheng evolves!
#14. Caroline Mutoko
Love her or hate her, she is very good at getting her demograph to go out and buy, buy, buy! She mainly appeals to middle class women trying to get a taste of that champagne lifestyle and that is gold for anyone trying to get single women aged between 30-45 to go out and spend.
#13. Camp Mulla
These guys have all the youngins trying to dress, walk, talk and sag like them. They have a lock on the difficult segment of teenagers to those aged 24. This segment is fickle and hard to impress but they have 100% disposable income whether or not that just amounts to 100 or 1,000/- shillings.
#12. Ekko Dydda
If you want to appeal to the Christian segment, Ekko Dydda is your man! Think about it, his brand has something very hard to come-by: integrity. And trust me when i say that not alot of celebrities have integrity! People trust what he says because he speaks his truth.
#11. Jaguar
Jaguar has released two tracks that have cemented him a the people's favourite. Even Sonko jumped into his band-wagon. This guy has everyone seeing him for what he is; a good guy and no-one can argue about that! Safaricom even had to get him on-board Safaricom Live to appeal to a wider audience!
#10. Daddy Owen
All he had to do to leave Kisima reeling was to announce that he'd be pulling out of this year's ceremony. Airtel had to hassle to get him as their brand ambassador and all for a good reason, his appeal cuts across every demograph and economic segment.
#9. Mbusi
Mbusi-deh's influence on inner-city youth is unparalleled! He asks them to jump and they ask "how high?" because their trust in him is unwavering. This is the lad Raptcha tried to attack (or was his account hacked) and Mbusii said nary a word but Raptcha was so inundated with replies that he had to "clarify" the matter -Uncle Chim Tuna has spoken!
This lad came up with phrases such as "kung'uta miwa kung'u kung'u", "safara", "toto si tortoise" (i have no idea whetin i dey write!). When he started out, he was a mere tea-boy but he placed Ghetto Radio in the fore when it comes to his time scheduling. And so he brilliant is he that he gave Bonoko-deh his footing on his show and that partnership has struck gold!
#8. Willy M. Tuva
This chap has the most listened to radio show. Period! and his appeal has people from Lokichoggio calling in! The only reason why he drops so low on this list is that his segment while both diverse and unbelievably huge, isn't a marketing execs ideal.
But trust me when i say that when he asked people to jump, they do so with out a moment's thought! He managed to crash Ghafla!Kenya when he merely mentioned us! The traffic was like nothing we had ever seen!
#7. Papa Shirandula
Who? The chap who played an African king in a coke ad. he is so talented that any role he does, he nails. and his influence is immense and the fact that he has the reputation of being a like-able chap only boosts it. Why do you think AFC Leopards sports officials are always clamouring to be photographed by him and so are Luhya MPs?
#6. Jalang'o
From what i hear, his "Yogho Yogho" skit for some Yogurt brand has now become the name used to refer to a certain part of the female anatomy. Nuff sed! This chap is hogging all the ads and with good reason! He is just that influential.
#5. Prezzo
The King of Bling is so influential that he got Kenyans riding on a wave of patriotism. something not even the president himself has been able to do! He overturned negative sentiment and turned it into an unstoppable positive wave that had politicians bending over backwards to be associated with him. Ask yourself, where are the other BBA Star Game contestants, especially the traitorous one!
#4. Julie Gichuru
Her segment is mainly maternal and she can sell anything. Trust me on this! She has a segment on Citizen called "Who Owns Kenya" and what she exposes is both helpful and informative but i do believe her father-in-law was mentioned in a corruption scandal… Yet none of you ever noticed long enough to question that fact. Influential!
#3. Maina Kageni
This lad's influence is mercurial. He got old foggies to cough up 10,000/- proper sidi to see James Ingram! A legend, true but even Ingram himself had to be reminded some of his own songs! This guy has every matatu driver tuning in to listen to his show. And it's not just about controversy, if it were, the beautiful, voluptuous Ciku would be able to mirror the results with her controversial show "Busted".
#2. Juliani
This guy is the golden standard. When Pulse attacked him, they met with a barrage of counters even though he himself didn't dain to validate the rooobbish spewed with a response. He didn't even have to lift a finger to defend his beautiful valkaryie Brenda Wairimu. We took care of that for him! And his appeal cuts across all the socio-economic classes. I watched him perform at Blankets and everyone sang his tracks word for word. A feat only rivalled by Liquideep and Just A Band (by that upper echelon crowd).
#1. Churchil a.k.a Mwalimu King'ang'i
This man right here! This man right here! His record speaks for itself ergo i do not dain it fit to go into details!
Source:ghafla.co.ke
Kenya's Top 15 Most Bankable Celebrities! (These Guys Are Like Gold)