Dubai firm targets Kenyans with deep pockets in sale of Sh66m houses
Dubai firm targets Kenyans with deep pockets in sale of Sh66m houses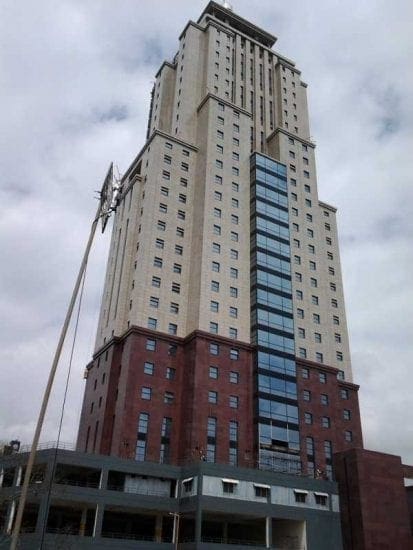 Emaar Properties, the Dubai-based real estate firm that developed the world's tallest building, Burj Khalifa, is targeting wealthy Kenyans for sale of luxury apartments priced in the range of Sh66 million per one-bedroom unit.
The lavish apartments in the United Arab Emirates city dubbed The Address Residence Sky View will feature 532 fully furnished and serviced apartments and 180 hotel rooms when completed in 2016.
In an interview with the Business Daily, Emaar Properties which has been running full-page adverts in the local dailies said it is targeting Kenyans with deep pockets and a taste for luxury apartments either as holiday homes or for investment.
"In Africa, we are advertising the Sky View project only in Kenya. We are also targeting the European and Asian markets," said Mayaada Mazzounni, a sales representative at Emaar.
The Dubai Financial Market-listed firm, however, declined to state the price of the five-star residences, only hinting at the cost of similar property within the neighbourhood.
"Prices will be available on the sale day, which is March 2. Interested buyers need to register online before the sale date," said Ms Mazzounni who, however, declined to reveal how many Kenyans had registered so far.
Emaar joins other foreign developers that have recently been wooing Kenyan property tycoons to buy holiday villas, apartments, bungalows and penthouses in locations such as London, Abu Dhabi, Doha, India and South Africa.
Seer Acquisitions, a British property investment firm has been courting Kenyans to buy residential properties and student accommodation facilities in central London and in the Caribbean island of Saint Kitts and Nevis.
"About 20 per cent of the students' buildings we have sold were bought by Kenyans; many of them either have children studying in the UK or buy to let," said Ms Claire Collier, Seer Acquisitions director in charge of Africa.
(Read: Wealthy Kenyans rush for London prime properties)
Ms Collier told the Business Daily that most Kenyan buyers were purchasing homes ranging between Sh26.3 million to Sh65.9 million (£200,000 and £500,000). A student accommodation studio apartment goes for Sh7.9 million (£60,000) in the UK.
"London is a very stable market and the rental yields average eight per cent," Ms Collier said, adding that Kenyan participation in buying the pricey London homes was 'significant.'
Owning a weekend or second home abroad where one can retire for holiday or spend time with family and friends is fast gaining currency among Kenya's affluent businessmen, politicians and professionals.
The Emirates conglomerate is also set to enter Kenya's hospitality industry in the second half of this year where it will manage and operate an exclusive resort named The Address Maasai Mara located at the world famous Maasai Mara National Reserve in Narok County (see article).
Mahad Karani, a Dubai real estate developer based in Nairobi said African buyers mostly purchase units in Dubai with an intention to sell off for a profit.
"Dubai is very attractive as most investors buy apartments to sell later or offer them for lease," said Mr Karani, the regional director for Africa at Adnan Saffarini Architects and Engineering.
Emaar said the units will be available on a first-come-first-served basis to manage demand. Prospective buyers will be required to travel to Dubai to attend the public sale next week.
The developer's pioneer project under the Address brand dubbed The BLVD, comprising 200 hotel rooms and 542 serviced residences in downtown Dubai, sold out on first day of the public sale in September last year.
Buyers snapped up the firm's studio apartments for Sh26.2 million a piece and as much as Sh139.7 million ($1.6 million) for a four-bedroom unit. The project is currently under construction and set for completion in 2015.
Realtor Knight Frank lists one of Kenya's most expensive property worth Sh150 million; a double-storey ambassadorial residence with seven en-suite bedrooms sitting on a one acre plot in Karen, Nairobi's leafy suburb.
The real estate agency further quotes a two-bedroom flats situated in Aldgate, London at Sh52.4 million (£395,000).
According to the Knight Frank's Global Cities Index, prime property prices in Dubai rallied 20 per cent last year, owing to the city's stature as a global commercial and tourist hub where demand for residential and office space remains high.
The 2012 International Property Rights Index, which gauges how countries enforce and secure property rights, ranks the UAE at position 23 globally with an index of 7.1 points. Kenya is ranked 97 with a score of 4.5 points.
The Address Residence Sky View, will be a twin-tower complex connected to each other via a 'Sky Bridge' which features a restaurant, ballroom, infinity pool and spa that offer views of both Burj Khalifa and the Arabian Gulf. Construction will commence in August this year.
"The project builds on the growth of the property market and tourism sectors of Dubai, offering investors a premium choice of home in the most prestigious square kilometre on earth," said Mr Mohamed Alabbar, chairman of Emaar Properties.
Emaar is also the developer of Dubai Mall, said to be the largest shopping complex in the world spanning 12.1 million square feet and the elite Dubai Marina Yacht Club.
Source:businessdailyafrica.com
Dubai firm targets Kenyans with deep pockets in sale of Sh66m houses