Kenyans chasing better life in Dubai, the city of dreams
Kenyans chasing better life in Dubai, the city of dreams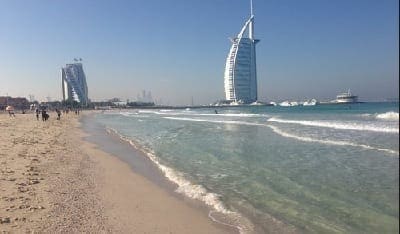 With stars in his eyes, 26-year-old Eric Kariuki packed his bags last September to start a new life in the Middle East. He had dreams of earning a lot of money and sending it back to his home in Nyeri.
Eric is one of the more than 40,000 Kenyan guest workers living and working in the United Arab Emirates (UAE). The growing economy of the Emirate and its rapid development has created the need for expatriate workers from many developing countries, including Kenya.
"Life is very good in Dubai, much better than what I experienced in Kenya," says Kariuki, a security guard, adding that he has made a point of remitting part of hissalary to his family back home.
Kenyans play a large part in the development of Dubai, alongside workers from India, Pakistan, Bangladesh, Egypt, Sri Lanka and the Philippines. Their sweat and hard work have helped to build the city's expanding skyline.
Courting success
A large number of Kenyans in Dubai work in the construction, hotel and entertainment industries. Many more are employed as domestic workers, while others are business people.
They are also present in Dubai's travel sector, servicing the buoyant tourism sector. Our national carrier, Kenya Airways, has a busy office here.
Henry, 27, who did not wish to reveal his surname, is one of the hundreds of Kenyans working at the Dubai International Airport. He says he has a strenuous daily routine but is content.
"I'm happier in Dubai than I was in Afghanistan. There is safety and rule of law here," Henry says.
I also meet a Kenyan working for Du Telecom as a processing clerk. Asking for anonymity because his extended family is highly influential in Kenyan politics, he tells me that life is 'very good' in Dubai and that he prefers to live here than in Kenya.
However, there are very few Kenyans in top-level administrative jobs in the city. Some of these are those who own businesses, for instance the Kenyan who owns a hotel in the Deira suburb.
Among the successful business owners are Kenyans (as well as Ugandans and Tanzanians) of Asian origin who have set up shop in the UAE. There are some 40,000 East African Asians who have settled here and are involved in various forms of businesses ranging from jewellery shops, export-import trade and supermarkets, to publishing.
In Deira, I came across shops with sales messages in Kiswahili plastered on the wall. Dubai is a popular destination for Kenyan traders, drawn by the duty-free prices and a wide range of merchandise.
The new arrivals might be mesmerised at the prospect of living and working in the sprawling metropolis, but the 'veterans' tend to be more pragmatic about their stay.
Take 34-year-old Aaron Kilu from Kathiani in Machakos, who arrived in August, 2007, to work as a security guard. He was first based at the Dubai Media City, the hub of media operations in the city, but after five years of service was promoted to the level of supervisor at the sprawling Dubai Mall, the emirate's largest shopping centre and popular with the affluent.
When I ask him if he has any plans to settle in the UAE permanently, he laughs and replies, "No!"
"I am here on a work visa and have to go back home at the end of my contract. I cannot stay here forever because I have a family in Kenya. I want to get as much money as I can and then return to Kenya."
As much as Dubai is hailed as a great place to work and live, the customs and laws (for instance on alcohol and religion) are very strict and different from the Kenyan law. A Tanzanian motorist was recently jailed for having an offensive sticker on his car.
And then there are cases where things go horribly wrong for foreign workers. There was a lot of tension in Dubai's Kenyan community in February, last year, when salesgirl Esther Wanjiru was attacked as she waited to board a taxi outside the Crowne Plaza Hotel. She died after being in a coma for a month.
However, Kenyan diplomats say this was an isolated incident and assure wananchi that Dubai is still a safe place.
Foreigners, mainly Indians and Pakistanis, form 67 per cent of Dubai's population of 2.1 million. Apart from Arabic, Hindi and Urdu are also widely spoken.
The downside of living and working in Dubai is that guest workers live and work under strict immigration laws. Their entry into the emirate and continued stay is dependent on the sponsorship of their employers. Those on low wages are not allowed to bring their families and often have to live as bachelors.
The privilege of bringing in families is only given to expatriates who earn highersalaries and can afford to live in expensive villas.
Source:standardmedia.co.ke
Kenyans chasing better life in Dubai, the city of dreams