Photos: Kenya Summer Party and Nyama Choma In London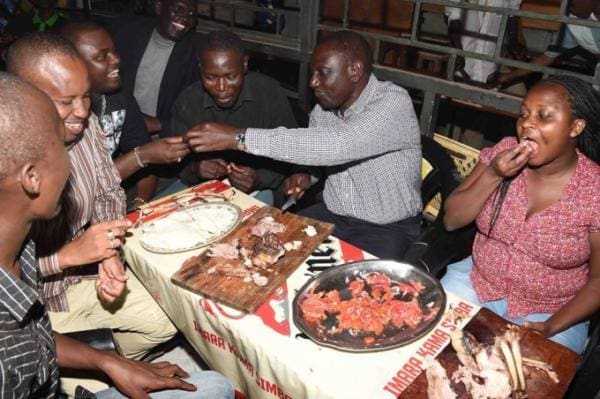 Kenya High Commissioner in the UK HE Ephraim Ngare was the guest speaker during the Kenya Society Summer Party and Nyama Choma which was held on Wednesday 25th July, 2013 at Kenya House, the resident of the Kenya High Commissioner in London.
Members of the Kenya Society of Kenya as well as invited guests attended the party which went up to late night.
The chairman of the Kenya Society Mr. Patrick Orr welcomed the High Commissioner and his wife Mrs. Jane Ngare at the party. While addressing the guests before inviting the High Commissioner Mr.
Orr said that the outgoing High Commissioner have cemented the Kenya-UK relationship than any other High Commissioner. "He has worked very hard during his term to see that the long time Kenya-UK relationship  is maintained." Mr. Orr said.
Mr. Patrick Orr (2nd from right) addressing the guests before inviting the High Commissioner
While addressing the guests after the Kenya National Anthem was played the High Commissioner said that he has enjoyed working with Kenya Society and Kenya Community as a whole during his term in the UK.
He officially announced that his office term is over and he will be holding on until November, 2013. This is after previously serving 5 years in Libya. The High Commissioner continued:
"As you are aware, the year 2013 has been an extra ordinary year for Kenya, with too many major events taking place in line with our new Constitution which was promulgated on 27th August, 2010.
You will also recall that on 4th March, 2013 Kenyans held their 11th General elections. These Elections were the first elections under the new Constitution. They were also the most complex General Elections ever to be held in Kenya.
It was pleasing to note that the above elections were truly credible, peaceful, free, fair and transparent – even in the eyes of both regional and international observers!" he said.
On right, Kenya High Commisisoner standing for Kenya National Anthem before addressing the guests at the party (right)
Guests were welcomed with food, drinks, nyama choma and icing it with a dance
On left is the Deputy High Commisioner Ambassador Jackline Yonga (2nd from left) with
Evangelist Jane Kiguru as the smell of Nyama choma filled the air
Popular Mugiithi dance took the credit of the day with everyone joining the train lead by Councillor Elizabeth Kangethe (far left) followed by Mr. Ken Nganga a guests from Kitengela, Kenya while on right Betty of Extreme Travel, Mrs. Jane Ngare and Jane Wainaina of KenTv followed closely.
On left is HE High Commissioner (2nd left) welcoming Mr. Ken Nganga from Kitengela at the party and on right are the winners of the day Janet Wainaina of KenTv and Professor Alistair Boyd, former chairman of Amref tried to outdo each other
Source-Misterseed.com
Photos: Kenya Summer Party and Nyama Choma In London