MPs discredit first testimony in Deputy President William Ruto case

MPs discredit first testimony in Deputy President William Ruto case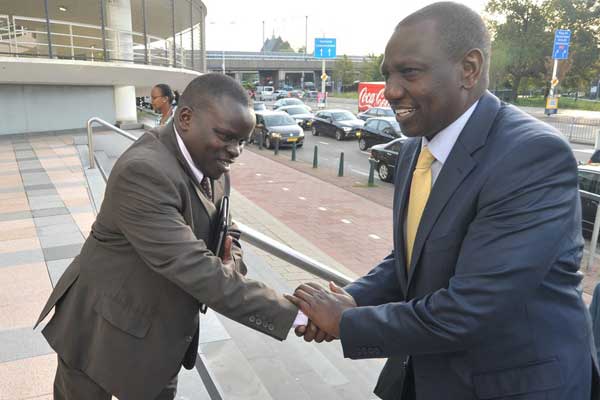 THE HAGUE: The testimony of the first witness against Deputy President William Ruto opened intense debate among lawmakers at The Hague with some strongly discrediting her testimony.
The MPs and senators who thronged the public gallery at the International Criminal Court (ICC) described the witness as 'omnipresent' whose account of everything was unbelievable.
"Surely, this witness was everywhere. If things were that bad as she says, how she survived," one lawmaker said at the public gallery as the woman narrated her narrow escape from the Kiamba church.
Their loud voices prompted a security officer to appeal for calm.
Some of the Kalenjin MPs and senators familiar with the Kiamba area also disputed part of her testimony.  Led by Kericho Senator Charles Keter and Baringo MP Grace Kiptanui, the MPs said it was not possible to trek from Kiambaa to Kimuli area where the woman said she lived. "Those two places are so far that it's not even possible to walk. You can't even take one hour to get there," she said.
But Tuesday, Ruto looked unusually unsettled as the prosecution's case sank in.
Became emotional
He followed the proceedings very keenly paying little attention to the public gallery where his wife, daughter, Kenyan MPs and Ambassador Makena Muchiri followed the proceedings
The testimony of the first witness also appeared to hit the senators and MPs – who initially took glee in her apparent 'mix-ups' – like a sledgehammer.
But the prosecution lawyers were also anxious and clearly on the lookout fearing that the witness would unknowingly reveal her identity or the identity of those close to her. At one time, they were thrown into a spin as the witness mistakenly named her child. And upon realising her blunder, the witness became very emotional with Prosecution Counsel Anton Stynberg asking for a brief adjournment saying that she was visibly upset.
"I know this is a difficult experience you are going through. So we are going to take a break so that you can recover and continue after lunch," said judge Chile Eboe-Osuji.-standardmedia.co.ke