Vision Determines Your Future By Boniface G. Gitau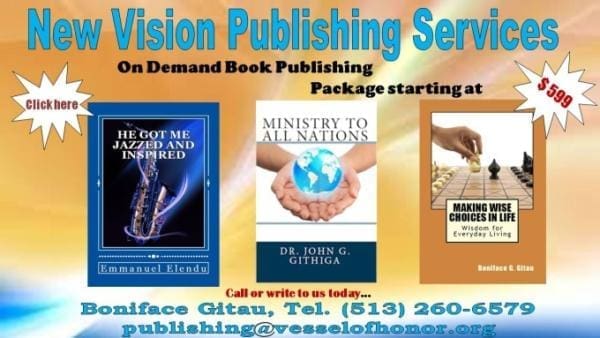 When you think about your future, what do you see?  Do you see yourself excelling and achieving great things in life?  Or do you see failure and disappointment?  What you see will determine your future, for you will naturally gravitate to the images you allow your mind to create about your future.
Our minds, which God created, have the ability to see the future we project; therefore, our minds think in terms of pictures.  When you are hungry, you see images of the food you crave.  If you really want a burger, you can already see the McDonald's sign in your mind; and before long, your car will find its way to the front of a McDonald's restaurant.  Because God created us with vision, we will always pursue the vision we create in our minds.  We reach for what we see.
The above Scripture (Proverbs 23:7) clearly states that we become what we think.  In other words, what we see in our minds and hearts is what we will become.  What we see today will determine where we will be tomorrow.  In fact, our past visions are what brought us where we are today.  Learn to create beautiful blueprints of your future in your mind, because your vision always determines your future.
By Boniface G. Gitau
Excerpts from "The Power of Vision"
Proverbs 23:7 (KJV)
"For as he thinketh in his heart, so is he."
To order this book click on this link http://shop.vesselofhonor.org/
Vision Determines Your Future By Boniface G. Gitau