Uhuru meets with Kikwete, Museveni in SA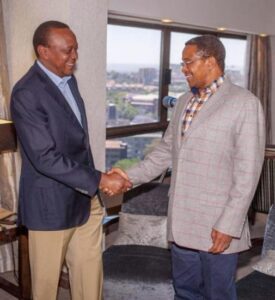 JOHANNESBURG, Nov 5 – President Uhuru Kenyatta has met and held talks with Tanzania's Jakaya Kikwete in Johannesburg, South Africa.
The two leaders are in South Africa attending the joint Summit of Southern African Development Community (SADC) and the International Conference on the Great Lakes Region (ICGLR).
In the meeting, the two leaders discussed a wide range of issues of mutual interest to the two countries and regional integration.
The Heads of State pledged to continue working together with other regional and continental leaders on as many issues as possible to offer superior opportunities to "realise our aspirations".
President Kenyatta also held bilateral talks with President Yoweri Museveni of Uganda in Pretoria.
Kenya, Rwanda, South Sudan and Uganda are working together to strengthen infrastructure network to enhance cross-border trade.
During the talks, the leaders affirmed their commitment to a common vision to catalyze the momentum of regional growth.-capitalfm