President Uhuru withdraws Hague trial excusal request
President Uhuru withdraws Hague trial excusal request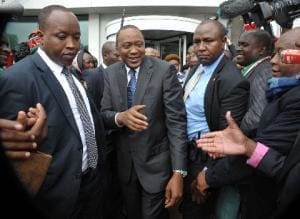 PRESIDENT Uhuru Kenyatta yesterday withdrew his request to be excused from continuously attending his trial sessions at The Hague.
Through his lawyers Steven Kay and Gillian Higgins, the President told the court that he will make another request if necessary, once the court sets a new trial date.
Uhuru's trial at the ICC was to start on February 5 but last week the judges suspended it trial until issues in a request by Prosecutor Fatou Bensouda to postpone it are addressed.
"In view of the vacation of the trial date pending the determination of the matters currently before Trial Chamber V(B), the defence hereby withdraws its excusal request, which was based upon the premise that the February 5 date was fixed for trial. The defence reserves the right to make a further application under Rule 134 quater should the need arise," Uhuru's lawyers said.
In the request, the lawyers said the President must also deal with the additional security threat to East Africa.